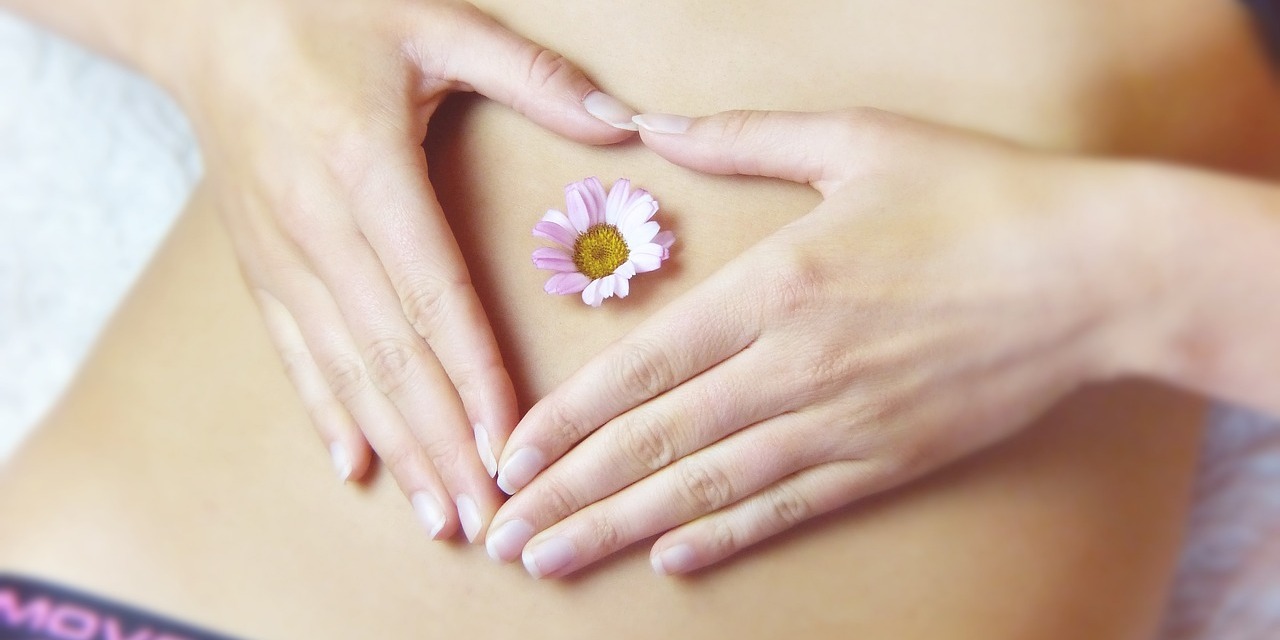 Maybe the first question that comes to mind reading the title of this article is if there's a difference between Thai Abdominal Massage and Chi Nei Tsang. Well… there is and there isn't! Let me explain.
Mantak Chia, the founder of the well-known Tao Healing Garden in Chiang Mai is the creator of Chi Nei Tsang. He didn't develop something totally new though. As stated on his Chi Nei Tsang official website : "Chi Nei Tsang, or CNT, is an ancient form of detoxifying, energizing, abdominal massage. It blends Chinese and Thai massage and meditation techniques, making it truly different from any other healing modality."

eBook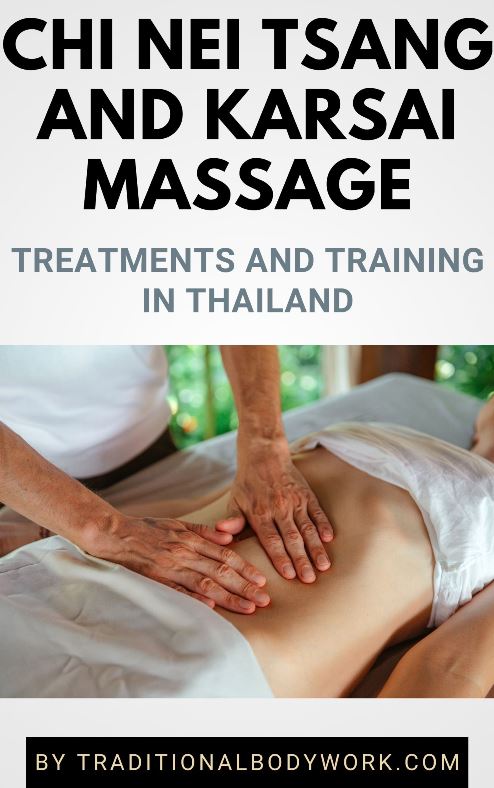 Thai Abdominal massage has always been part of Traditional Thai Massage. Yet… not necessarily as a separate bodywork modality but rather integrated holistically in Thai Massage treatments and sessions. As we know, Thai Massage is a full body massage… basically working on and with all parts of the body of the receiver.
Of course, there have been and still are Thai Therapy specialists, as there have always been, who are experts when it comes to certain "areas of the body," let's say neck and shoulder specialists, knee specialists, foot specialists, genital organ specialists, and so on, and so on… and also Abdominal specialists.
With Mantak Chia, Chi Nei Tsang emerged as a distinct abdominal and internal organ hybrid therapeutic treatment, mixing, combining and integrating concepts, methods and techniques from Thai Traditional medicine, Traditional Chinese Medicine and Thai Massage.
Anyway… let's take a look in this article where and with whom in Thailand one can study Thai Abdominal Massage and/or Chi Nei Tsang.
Baan Hom Samnuphrai
Baan Hom Samnuphrai near Chiang Mai city doesn't offer a separate Thai abdominal massage course, but abdominal work is included in their Womblifting, Postpartum Care & Herbal Therapies courses and in their Special Therapeutic Massage Course.
Blue Garden
Blue Garden in Chiang Mai offers an Abdominal Chi Massage course (Chi Nei Tsang inspired, as they say) of 6 days (24 hours), private courses, a condensed 10 hour course and a "Chasing the Winds" course of about 10 hours.
Chiangmai Classic Art Thai Massage School
Chiangmai Classic Art offers a 2 day course of 16 hours total. The school is focused on Japanese students.
Loi Kroh Traditional Thai Massage & Yoga
Loikroh Massage offers a Abdominal Detox Massage Level 1 & Level 2 course and positions them as internal organ chi massage combined with Thai abdominal reflex points. Coocky, the founder and owner of the Loi Kroh school, has studied Chi Nei Tsang at the Tao Garden with Master Mantak Chia and Jutta Kellenberger.
Kornthip Hattavej
Kornthip Hattavej Massage Training, run by Pensiri Matchachan (Waree), offers private training and treatments of Abdominal Healing Massage, Thai Massage, Thai Oil massage, Thai Foot reflexology, and Herbal Compress massage.
Mantak Chia & The Tao Garden
As the inventor of Chi Nei Tsang this of course would be the best place to study Chi Nei Tsang. Mind that in the system of Mantak Chia, called the Universal Healing Tao System, Chi Nei Tsang is just one of the modalities. Apart from Mantak Chia, Jutta Kellenberger is the senior instructor of Chi Nei Tsang at the Tao Garden. Chi Nei Tsang instructor training is also offered.
You can find info about courses and retreats at the following places:
Mindful Wellbeing
Mindful Wellbeing on Koh Phangan offers a 5 days certified Chi Nei tsang Course. Mantak Chia lineage.
Sirichan Medical Massage School
The Sirichan Medical Massage School in Chiang Mai is run by Sirichan Nooy, a Thai Traditional Medicine doctor and therapist. She offers Restorative Abdominal Massage (Wissim Nuad Tong Boran) training, a blend of Lanna abdominal massage and Chi Nei Tsang of the Tao Garden.
Omsala
Ohm Rinraya, the founder of this school in Chiang Mai, is a former Sunshine Massage school teacher who learned Chi Nei Tsang from the well-known therapist A. Bunjong Pun also known as Khun Ni. Khun Ni is a specialist in Abdominal massage, Thai Postpartum and Thai Womblifting treatments. Ohm offers an Abdominal Chi Massage Level 1 (20 hours) and Level 2course (15 hours).
Khun Ni
Teacher Khun Ni is a popular Thai therapist and instructor from Chiang Mai specialized in Chi Nei Tsang, Karsai Nei Tsang Thai Genital Massage, and Thai Womblifting techniques.
Ong's Thai Massage School
Ong's school in Chiang Mai offers a Thai Abdominal Massage (Chi Nei Tsang) Level 1 and Level 2 course of each 5 days.
Open to Bliss
The retreat center Open to Bliss is located at the Wisdom Eye on Coconut Lane in Sri Thanu and offers 4 and 6 day courses and retreats based on Mantak Chia's system. Karsai Nei Tsang and also authentic Tantric healing massage is also taught in special retreat formats.
Pi Jem Thai Massage
Pi Jem from Chiang Mai is a specialist in Thai Massage, Thai Abdominal Massage and manipulation of the Female Reproductive System e.g. Thai Womblifting, Thai Postpartum treatments, and so on.
SenSip Training Chiang Mai
The SenSip school offers Thai Abdominal Reflexology courses with a duration of 4 days (28 hours).
Sunshine Massage School
The Sunshine School does not have Chi Nei Tsang (Abdominal Chi Massage) included in their regular Thai Yoga Massage program, but they often offer workshops, in past years done by Doris Kolling. Check out their schedule on the website.
Thai Bodywork Chiang Mai
David Deslandes offers a 5 days Abdominal Detox Massage Training.
Thanachai Therapy
The institute is founded by Thanachai Chaimongkhon who offers Thai Massage and Thai Abdominal Massage courses.
Thai Healing Massage Academy
The academy from Shamakern offers an online Abdominal Massage course. Shamakern lives in Chiang Mai.
Did we skip a trainer in Thailand that offers Thai Abdominal Massage courses or Chi Nei Tsang training? Please let us know!
---
---
Related Articles
---