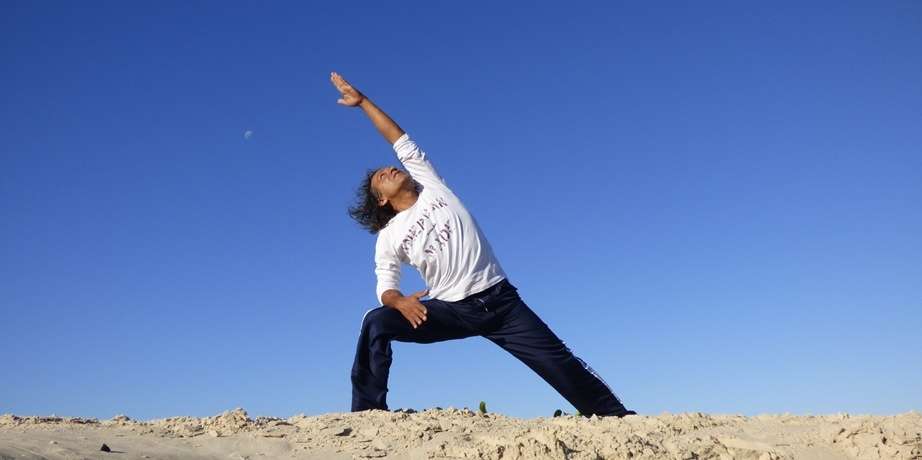 © Image from TraditionalBodywork.com
Reusi Dat Ton (Rusie Dutton, Rue-Si Datton), also called Thai Traditional Yoga (or Thai Yoga), is an ancient form of Thai self-stretching and self-massage exercises, part of Traditional Thai Medicine.

Video | by TraditionalBodywork.com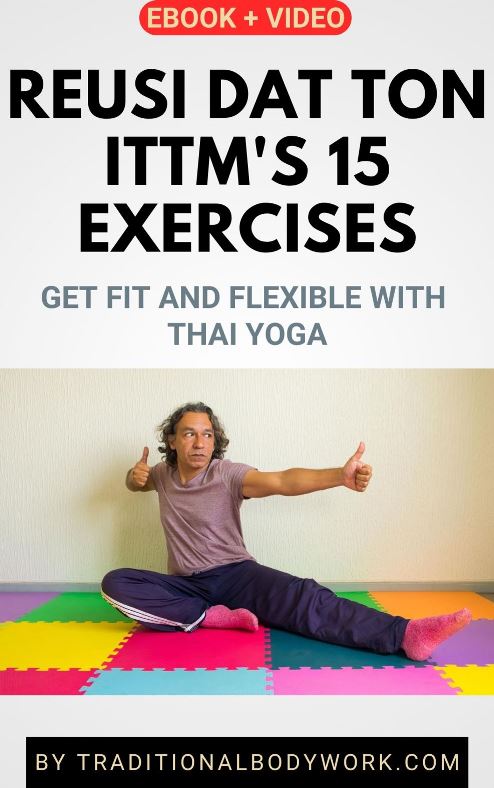 Thai Yoga is a mixture of breathing exercises, self-massage, stretches, visualizations, chants, meditation, and a range of Yogic poses and sequences, which are performed in standing, sitting, or lying positions.
In this post we take a look at the goals of the practice and the possible health benefits of doing Reusi Dat Ton exercises regularly.
The main goal of Reusi Dat Ton is maintaining overall health i.e. preventing illness. Another additional goal is to support people to regain their fitness after an illness, that is, it may be used as a restorative practice. Thai Yoga is not primarily meant to be a curative practice, although certain exercises can be carried out that have specific therapeutic goals, being able to heal basic illnesses or discomforts.
Reusi Dat Ton exercises can be done by young and old, although one should always take certain precautions and contraindications into consideration.
General Health Benefits
According to the Thai knowledge and tradition, Reusi Dat Ton may have the following health benefits:
◾ stimulates blood and lymph circulation
◾ stimulates proper nourishment of the body
◾ strengthens the joints and muscles
◾ stretches the muscles preventing injuries
◾ helps warming and preparing the muscles before sports
◾ relaxes and calms the body and nervous system
◾ reduces general mental stress and anxiety
◾ makes muscles, tendons and ligaments more flexible
◾ massages organs in the chest and abdominal area
◾ promotes longevity
◾ promotes beter range of motion for muscles, tendons and joints
◾ stimulates correct posture, balance and proper bodily movement
◾ improves breath control
◾ promotes abdominal breathing
◾ improves oxygen intake
◾ stimulates the production of endorphins
◾ stimulates the discharge of bodily waste products (detox)
◾ alleviates and relieves from general pains
◾ maintains health
◾ promotes quicker recovery after illness
◾ stimulates and balances the flow of vital energy (Lom Pran)
◾ promotes overall well-being
Ailments Resolution
According to the Thai knowledge and tradition, it's thought that Reusi Dat Ton can alleviate or cure the following ailments and/or discomforts:
◾ low back pains
◾ ankle, foot, knee, and leg pains
◾ finger, hand, wrist, and arm pains
◾ numbness of arms and legs
◾ effects of strokes
◾ abdominal, chest, and shoulder pains
◾ pelvic issues
◾ digestive disorders
◾ weariness, fatigue, and palpitations
◾ irritability, depressions, and fears
◾ frustration and drowsiness
◾ emotional trauma
◾ vertigo and dizziness
◾ concentration problems
◾ cramps and spasms
◾ poor balance and coordination
◾ poor posture
◾ hip discomforts
◾ neck pains and headaches
◾ throat pains
◾ stiffness
◾ genital pains
◾ blurred vision
◾ hemorrhoids
---

---
---
Related Articles
---