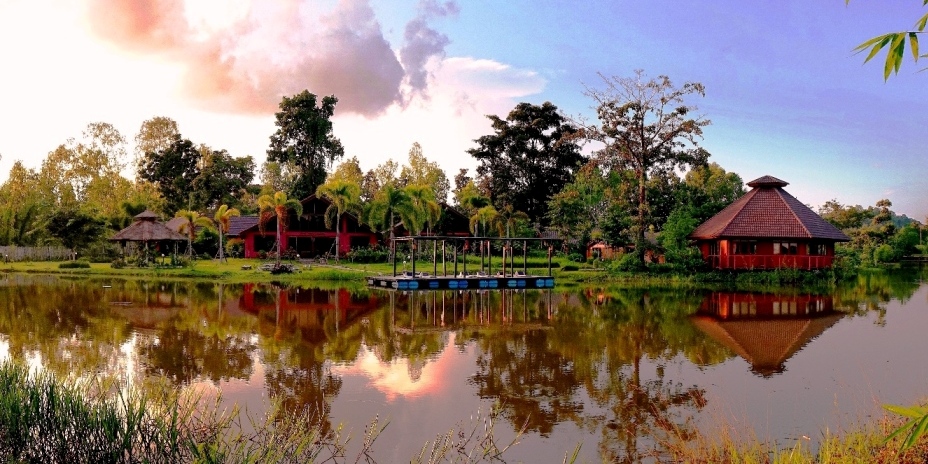 © Image from Museflower Retreat & Spa
Established in 2014, Museflower Retreat & Spa is an eco-friendly all-inclusive vegetarian holistic wellness retreat situated in Chiang Rai, Thailand, serving the local community, eco travelers, and vegetarian travelers.
Set on a lake with stunning natural surroundings in Northern Thailand, Museflower boasts an on-site organic farm, organic vegetarian cuisine, fruit orchards, egg farm, wellness shop, lakeside fire-pit, spa, and Thailand's first Himalayan crystal salt swimming pool, among other unique facilities and sustainable practices.
Relax and Re-energize
The Museflower Retreat caters for the ideal setting to just simply relax and de-stress escaping from the hustle and bustle of city life, yet also offers healthy active and re-energizing programs, such as scheduled group classes for Yoga, QiGong, Pilates, Guided Cycling Tours, and more.
In addition, the center has facilities available for rental to host retreats, workshops, training courses and corporate team building escapes. Just take a glance at their Special Event & Retreat Program Schedule to get an idea of the sort of activities they organize.
New and Expanded Facilities
Recently, Museflower expanded its spa facilities and treatments to enhance guests' health and relaxation experience. Facilities now include newly expanded Male and Female Relaxation Areas with Hot Mineral Baths and Thai Herbal Steam rooms.
Some spa treatment rooms now feature spacious new en-suite outdoor bathrooms where guests can shower under the trees in the fresh breeze after body wraps and scrubs.
The detoxifying Himalayan crystal salt swimming pool got an addition of a shaded pool deck offering increased space for more poolside lounge chairs where guests can lie and relax between swims.
Rejuvenating Spa Treatments
Apart from already available treatments, such as Thai Massage, Thai Herbal Massage and Indian Head Massage, to name a few, a set of new holistic spa treatments include Bamboo Massage, Hot Stone Massage, Pregnancy Massage, Detox Massage, and Natural Facial Massage.
Other interesting features of the spa menu are the offerings of an energizing Crystal Massage treatment, therapeutic Chi Nei Tsang Traditional Chinese Abdominal Massage, and Traditional Chinese Cupping.
Monthly promotions offer various unusual therapies such as the ancient Tok Sen Massage, a northern traditional Lanna Thai massage treatment using wooden tools to tap along the body's Life Energy Lines to stimulate circulation and revitalize the energy flow.
---
---
Related Articles
---