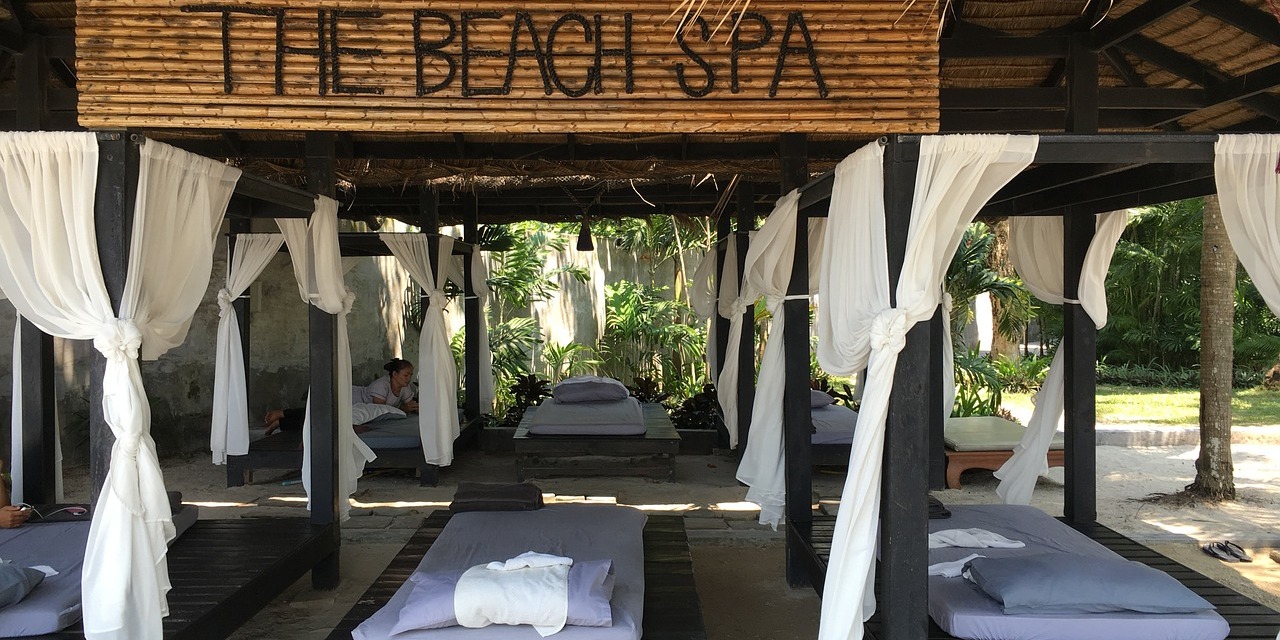 It's said that Thailand is perhaps the most dangerous place to have a Thai Massage. That, of course, sounds rather paradoxical, but there's certainly some truth to it.
As Thai Massage is one of the most successful tourist "products" of Thailand, we find an abundance of offerings virtually everywhere across the country. In fact … and now I'm gonna exaggerate very gravely … those Thais who can't do any other job… offer Thai Massage sessions.

Our eBook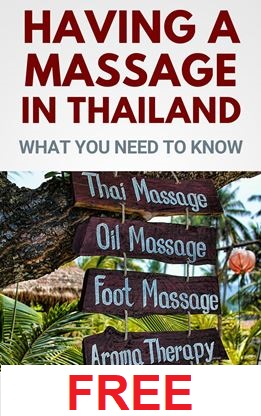 Surely the statement above doesn't do justice to the art of Traditional Thai Massage and to the practitioners, but there's some important truth to it. As Thai Massage is such an integrated, common part of daily life in Thailand, many Thai already learn to give sessions at a very young age. Subsequently, the step to later on give sessions commercially to (ignorant) tourists is a small one.
What we see is that a large number of masseurs in Thailand have little or no formal education. They have massage experience, sure, and sometimes also a short training course (perhaps 60 hours of Thai Massage training) giving the practitioner the legal right to work in a massage parlor. Nothing wrong with that, but … there's more and there's less quality to be found accordingly.
Another problem is the language. Most Thai barely speak English (or any another foreign language) and that's an issue when it comes to giving Thai massage. In fact, before giving a Thai Massage the therapist (practitioner) needs to know from the client what their "state of health" is and/or if there are any special considerations to be made like for instance, pregnancy, an active cancer, skin problems, artificial joints, transplants, and so on. Let's say … a masseur needs to seriously take into consideration Thai Massage session precautions and contraindications.
Very often, the only question one gets is if one wants a hard or soft massage, and, of course, that's way too thin to give a responsible massage session. Anyway, if you're healthy, and if you have no special health issues, you will get away fine with most practitioners by just asking for a "soft" massage.
But let's not get too gloomy, as surely, there are very good massages to be gotten in Thailand, and in this article we're going to look where one can have the best Thai Massage suitable for you and what are the considerations to be made.
The Beach
Relaxing on one of the many wonderful beaches in Thailand, you'll often see these "little old Thai ladies" walking around carrying a box or bag (with massage tools) and offering you a Thai Massage, Thai Foot Massage, or Thai Neck, Head, and Shoulder massage. Often fairly cheap, and of short duration.
Of course, it's a risk, these practitioners most of the time have no formal education, but usually they do have a lot of experience. Here it's recommendable to ask for a "soft" massage, and if it's a Foot Massage, don't let them work with their wooden sticks (if you care to still be able to walk normally in the days after).
On some beaches in Thailand you'll find rows of professional huts or cabins, say—a sort of full-fledged Thai Massage salons at the beach. Krabi, for instance, is a good example. Here also, I would take the general precautions (as mentioned above with the "little old Thai lady") and try to explain to the practitioner if you have any health or other special issues.
The Shopping Mall
Thailand boasts many shopping malls, they're very popular among the Thai, and basically every major shopping mall, or even the Lotus Tesco or Carrefour, will have one or more Thai Massage shops in their midst. Usually, they're rather cheap (starting as from 250 BAHT), clean, and one can have a fairly good general Thai massage.
Offerings usually span Thai Foot Massage, Thai Massage, Back Massage, and Head, Neck & Shoulder Massages. Sometimes, Thai Oil Massages, Thai Herbal Ball massages or herbal steam treatments are offered, but it's rare.
The Markets
Markets are the heart and soul of Thailand, and they come in many sorts—small, medium, super large, goods, fruits & vegetables, flowers, foods & drinks, herbs, in the week, every day, or only in the weekends, or only on Saturday or Sunday, and so on.
Most markets in Thailand have Thai massage offerings (and Thai Foot massage, head, face, neck, and so on), somewhere. Sometimes the offerings are in a little shop (for the full body massage), but mostly given outside in the open, in a comfortable chair (couch like). Perhaps these massage are the cheapest to be obtained, from 15 minutes duration to often an hour max.
Street Front Massage Shops
These kind of shops are in hundreds to be found in the major tourist centers in Thailand, like on the islands (Phuket, Koh Phangan, Samui, etc), or on the Khao San Road in Bangkok, in Chiang Mai, Hua Hin, Pattaya, and so on.
Typically, walking by, you would hear "Welcome, massage!" called to you and these are the shops where you'll find many Thai lady masseuses standing outside offering you a session. Most of these shops offer the whole gamut of Thai Massage, Foot Massage, Oil Massage, Head, Neck, Shoulder Massage, and sometimes also the unsolicited offerings of "Thai Massage with a Happy Ending…"
Hotels & Guesthouses
In the better Hotels and Guesthouses in Thailand you'll often find offerings for Thai massage and other treatments (sometimes in an internal/attached spa, sometimes an external practitioner list). You can rest assured that treatments are most likely to be trusted, as the hotel would surely not want negative advertising. Prices, of course, really depend on the class of accommodation facility you stay.
Temples
The Thai Buddhist temples, called Wats, quite often offer Thai Massage services. In fact, the temple in Thailand is one of the oldest designated places that traditionally offer Thai Massage treatments.
In the past, this was done by monks (which could then only be for men as they are not allowed to touch women), but today there's often a little treatment center not necessarily occupied by monks, but with local healers offering treatments and sometimes also training.
Now, you will not find much info about this on the Internet. Sometimes you can find a Facebook page, but in general you will just need to pass by the temples yourself and check it out.
Surely, there's the most famous temple in Thailand, the Wat Pho temple in Bangkok, adjacent to the Grand Palace, which until today offers massage services on its temple grounds (not given by monks by the way). In Chiang Mai, Northern Thailand, also, you can find quite some temples that offer Thai Massage services.
Spas and Wellness centers
In Thailand, you'll find many, many day spas and spa/wellness retreats (including accommodation). Pricing depends on the facility… from budget to high-end luxury and (extremely) expensive.
You can have it your way, and Spas usually offer a vast range of Thai Massage and Thai Healing Arts treatments, and their own mixes of so-called "signature treatments," ranging from pampering, relaxation, to therapy, often also including other Asian bodywork and/or Western bodywork and massage modalities (like Sports massage, Swedish massage, and the like).
Check on the accreditation and certifications of the employees, and most likely you will find reviews on the internet.
Resorts & Retreats
Like with the Spas and Wellness centers, you'll find an abundance of resorts and retreats in Thailand in many different price ranges. Resorts and retreats are often specialized in a certain offering (Detox, Yoga, Fitness, Nature, Meditation, and so on), and in addition provide for bodywork and massage treatments.
You can check out there 'Spa Menus' to get an idea of pricing and offerings. One can generally trust Thai Massage and other Thai Bodywork sessions at Resorts and Retreats (you can figure that they don't want bad advertising…)
Blind Massage Shops & Schools
One of my personal favorites are the so-called Blind Massage Shops and Blind Massage schools in Thailand. It's the common idea that blind masseurs have added sensitivity and are usually very good practitioners. Of course, it's true, but there's more to it. In fact, blind Thai Massage practitioners have had intensive vocational training (at Blind Massage Schools) making them experienced and very competent therapists.
Most cities in Thailand have one or more Blind Massage Shops and/or Schools. Just ask around. Most Blind Massage Shops offer at least general Thai Massage treatments and Thai Massage therapy (often done on a big bed or table) and Foot Massage. Prices are usually in the budget range.
Thai Massage schools
Quite a number of Thai Massage Schools in Thailand have a treatment center or clinic attached to it, or just also offer treatments. Generally, Thai Massage treatments at a school can be trusted, certainly when it's from one of the teachers. Here, on our website, you can find all Thai Massage schools and teachers in Thailand.
Thai Traditional Clinics and Thai Traditional Medicine Hospitals
Of course, one can expect to get decent and competent treatments at Thai Traditional Medical Clinics and Hospitals. Pricing is often mid-range. Generally, treatments are not done in an ambiance of pampering and wellness, but more straightforward in a therapeutic style.
Word of Mouth Massage Services
If you have specific health issues (like for instance, lower back, knee, abdominal, or genital discomforts, and so on), you'll find excellent highly specialized Thai traditional therapists in Thailand to deal with that.
In this case, I would advise you to visit a few Thai Massage schools and ask for well-known therapists in the city or region. Notably in Bangkok and in Chiang Mai, you will surely be able to succeed.
---

---
---
Related Articles