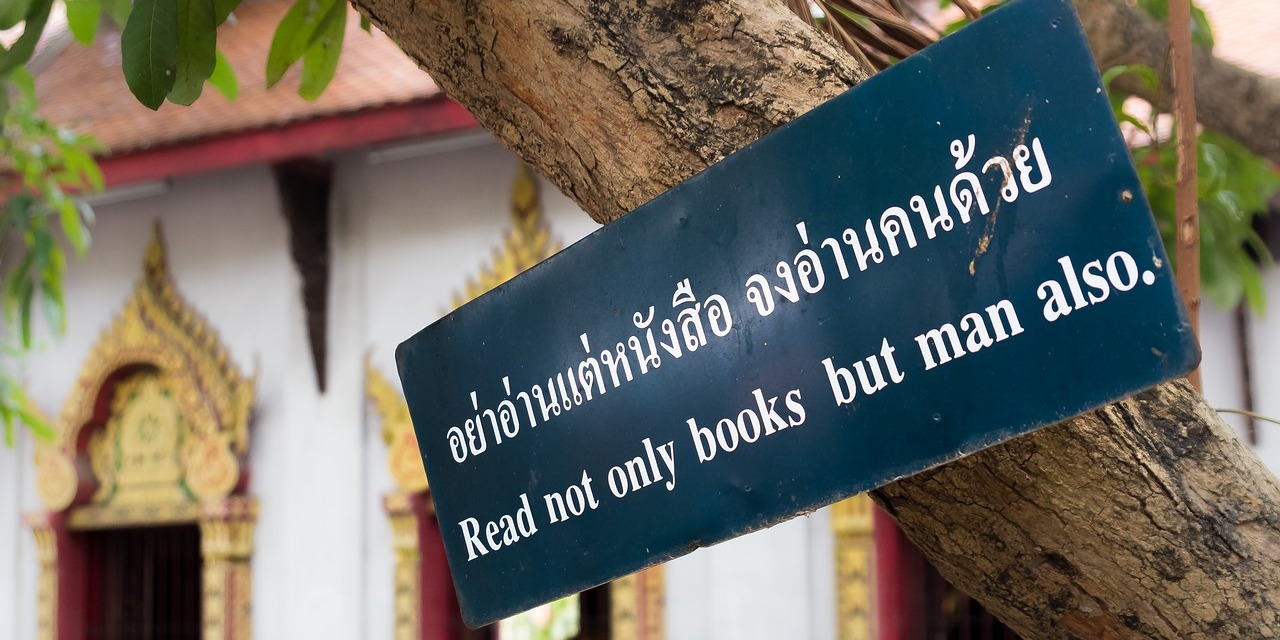 For those who want to buy Thai Massage and Thai Medicine books (online), it's of course always possible to check things out at the Amazons or Alibabas of our times. There you'll find quite a number of publications, but mostly from Western authors and teachers.
This post however is about buying Thai Massage books, publications, and posters in Thailand. With some of the options below it's also possible to buy book publications online (from out your home country), with other options you can only purchase materials in-store in Thailand.
Asia Books
Asia Books is a Thai based online bookstore, but additionally the company has more than 70 local shops under the Asia Books and Bookazine brands across the country. Many of the shops can be found in Bangkok, on the major airports, but also in cities like Chiang Mai, Khon Kaen, Korat, Hua Hin, Phuket, Pattaya, Songkhla, Hatyai and others.
The company sells quite some Thai Massage and Thai (Herbal) Medicine books, both from Thai and Western teachers or schools. Some authors available are Jan Chaithavuthi and Kanchanoo Muangsiri (TMC), Asokananda (Harald Brust), Bob Haddad, and Pierce Salguero.
Thai Massage Book
The Thai Massage Book Press in Chiang Mai offers the text books and manuals used in Thai massage classes from the Thai Massage School of Chiang Mai (TMC) and Thai Massage School of Thailand.
Basically, four books are for sale and can be ordered online on their website. Of course, if you're in Chiang Mai you can just hop by. The books are:
Ancient Thai Massage Healing With Prana
Foundation of Thai Massage Applied on Table
Thai Foot Reflexology For Health
Thai Chair (Seated) Massage
The Sunshine Network
The headquarters of the Sunshine Network are in the Huey Nam Rin Lahu Village in Chiang Rai. There are several books available from Asokananda and some co-writers like Chow Kam Thye, Prabhat Menon, and Laurino (Lauro Bertelli). Check the Sunshine Network Website for all available books.
Some of the books are published by Nai Suk's Editions, for instance the famous The Art of Traditional Thai Massage, The Yoga of Mindfulness, Tai-Chi Chuan, and more. The books are often available in other languages also, like in German, French or Italian.
On difficulties obtaining books you can contact Don Bertram from the Sunshine Network New Zealand. Another option is simply roaming the secondhand bookshops in Thailand, notably in Chiang Mai and Bangkok. In the past, I've found quite some of Asokananda's books there.
Wat Po Medical Massage School
The Watpo Thai Massage School, on walking distance of the Wat Pho temple, offers various books on Thai Massage, Thai Massage Therapy, and Traditional Thai Yoga (Reusi Dat Ton). The books are mostly in the Thai language, although sometimes with English translations included in the text. The school also provides a little booklet with the Watpo General Massage sequence (Thai Massage Foundation course).
Wat Pho Temple Complex
The famous Temple of the Reclining Buddha in Bangkok, adjacent of the Grand Palace, has a little area (near the sala of the Reclining Buddha) with fortunetellers, handicrafts and the like, and also some Thai books about Thai Medicine and Thai Massage. The collection varies.
Around the Wat Pho Temple
In the direct surroundings of the Wat Pho temple in Bangkok, you'll find many little shops that sell Thai medicine and Thai Massage supplies, books and posters (with Thai Massage or Thai Yoga moves and positions, and so on). Very worthwhile looking around there, you often find the most obscure Thai Massage materials and publications, although mostly in the Thai language.
Khao San Road | Bangkok
The Khao San Road (or Khaosan Road) is a world-famous backpacker area in Bangkok (Bang Lamphu district). It offers cheap guesthouses (but of late also expensive accommodation), tons of travel agencies, many restaurants, bars, nightclubs, and an incredible amount of shopping opportunities (mostly little shops and street vendors).
It's a hot-spot for travelers from all walks of life and an excellent place for making travel arrangements to the rest of Thailand. The adjacent streets are equally well-equipped, like for instance the almost as famous Rambuttri Road.
In the area you'll find quite a bunch of secondhand bookshops, where you'll be able to purchase Thai Medicine and Thai Massage books for very reasonable prices.
Around the Tapae Gate | Chiang Mai
The Tapae Gate and Square is one of the main the centers of activities and celebrations in Chiang Mai. In the direct surroundings of the gate (also written as Tha Phae Gate) you'll find quite a number of secondhand bookshops with lots of Thai Massage publications.
---

---
---
Related Articles