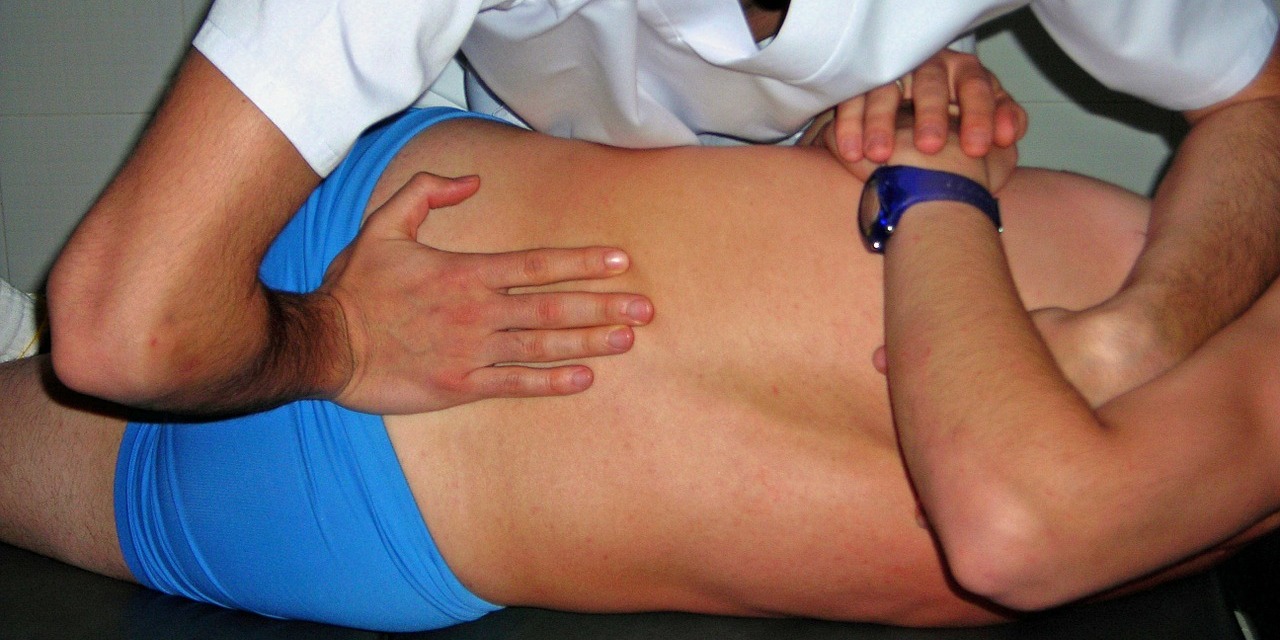 Osteothai (sometimes also written as Osteo-Thai or Osteo Thai) is an integration of Osteopathy and Traditional Thai Massage. The Osteothai concept was created by David Lutt and Arno L'hermitte, two French Osteopaths.
Additionally, David and Arno are also authorized Sunshine Network Thai Yoga Massage instructors. David works in France mainly, Arno mainly on Bali (Indonesia), but both teachers regularly offer training courses in other countries also.
How Osteothai Works
Thai Massage is powerful in (Yogic) stretches, sustained pressure work and acupressure, and Osteopathy works excellently for release of tissue tension and more precise work on structural and joint mobility.
The Osteothai Massage modality uses a holistic whole-body approach, combining the amazingly rich set of Thai Massage techniques with the more accurate and gentle touch of Osteopathy.
The treatment is practiced on the floor on a mat and the receiver wears light, loose-fitting and comfortable clothing. The therapist uses hands, feet, knees and elbows to apply the treatment.
Osteothai Training
The trainings are not aimed at teaching Osteopathy. It's to introduce several Osteopathy techniques that can be integrated easily with Thai Massage. The overall goal is to improve joint mobility, restore and support vitality and ease of movement.
Osteothai courses are suitable for seasoned massage and bodywork practitioners with a solid Thai Massage training background and an active Thai Massage practice who want to learn more about osteopathic principles and techniques.
Trainers around the Globe
Mind that not all trainers mentioned below offer full-fledged Osteothai courses. Some only use a subset of Osteothai of Osteopathic techniques in their Thai Massage training offerings or give combined trainings together with Osteothai specialists. Verify the exact contents of the actual study curricula.
AcroMoves
AcroMoves is operated by Oliver Chamorro and Sharon Peregrina. Oliver and Sharon practice a comprehensive, holistic & mindful approach to the full range of natural human movement
[More details...]

acromoves.com

facebook page

facebook page

instagram page
Cécile Hérault
Cécile Hérault from France offers Yoga classes and Thai Massage courses and workshops. Works closely together with David Lutt (Lulyani) as for Thai Dynamic Massage and Osteothai.
[More details...]

facebook page

cecile-herault.com
Co-Creative Healing
Co-Creative Healing, owned and run by Stephanie Shrum, offers massage therapy and bodywork treatments and classes.
[More details...]

cocreativehealing.com
Cosmo Thai Yoga
Cosmo (Julian Cosmo Kemp) is a Yoga teacher and an ITM Chiang Mai affiliated Thai Massage instructor. He offers Thai Massage courses in various countries around the globe.
[More details...]

cosmothaiyoga.com
Dragonfly Village
Arno L'Hermitte, a Sunshine Network Thai Yoga Massage teacher, is one of the founders of Osteothai, an integration of Osteopathy and Thai massage. Arno practices in France and Indon
[More details...]

dragonfly-village.com
EvaSion
Eva Sion & her team offer Yoga and Thai Yoga Massage training and events in a variety of places around the world.
[More details...]

thaimassagebalianbeach.blogspot.com

evasionthaiyoga.com
Karuna School of Yoga & Thai Massage
The Karuna School of Yoga & Thai Massage, founded by Mika Bar-On, is based in Tel Aviv, Israel, and teaches private and small yoga classes, traditional Thai Massage and professio
[More details...]

facebook page

facebook page
Lulyani
The school is based in France and is operated by David Lutt and Dao Lefevre. David is a Sunshine Network teacher and (together with Arno L'Hermitte) co-creator of the so-called
[More details...]

lulyani.com
Matthiasthai
Matthias Beuthe is the founder and lead Thai Massage instructor of Matthiasthai. Matthias is a physiotherapist with a solid Thai Massage education. Of late he's quite interested
[More details...]

facebook page

matthiasthai.com
Osteothai
Osteothai is the integration of Osteopathy into Thai massage. The Osteothai website is a placeholder for the work of David Lutt and Arno L'Hermitte. Both instructors are authorized
[More details...]

osteothai.com
Sahaja Akademie
The Sahaja Akademie in Munich is founded and run by Sofia Fenner. Regular guest teachers at the academy are are Till Heeg, David Lutt, and Rosemary Wallace.
[More details...]

sahaja-akademie.de
Sunshine House
Sunshine House is a retreat center on the Greek island of Evia, exploring Yoga, Thai Massage and Meditation as a way of life. It is set in a traditional, old country home and grounds
[More details...]

facebook page

instagram page

thaimassage.gr
Thai in Flow
Thai in Flow is run by Bojan Babic. Bojan is based in Belgrade (Serbia), but he also offers Thai Massage courses & workshops in a variety of other countries.
[More details...]

thaiinflow.com
Thai Massage Circus
The Thai Massage Circus is a yearly returning Thai Massage immersion event in Laos founded and organized by Arno L'Hermitte.
[More details...]

thaimassagecircus.com

circus-village.com
Therapy Thai Massage School
The School of Thai Yoga Massage from Thierry Bienfaisant offers a variety of Thai Massage courses and retreats in Belgium and abroad. Thierry also offers AnaThai, Thai Dynamic Massage
[More details...]

anathai.com

therapiethaimassage.be

therapythaimassage.com
Till & Neus
Till Heeg is a Sunshine Network teacher who, together with Neus, offers Thai Yoga Massage training courses, events & workshops in various countries around the globe.
[More details...]

tillthai.com
Yoga Say
Helen teaches Yoga, Thai Yoga Massage, Osteothai and Dynamic Thai Massage.
[More details...]

yogasay.org

facebook page
Zoltan Gyorgyovics
Zoltan Gyorgyovics is an  authorized Thai Yoga Massage Teacher of the Sunshine Network originating from Hungary. He offers treatments and Thai Yoga Massage and Dynamic Thai Massag
[More details...]

facebook page

zoltangyorgyovics.com
Jack Chaiya, from Chiang Mai, Thailand, is the son of the late Lek Chaiya. "Mama Lek" was a renowned healer, herbalist, and teacher. Her Thai Massage style is widely known as Nerve Touch Style or [Read More…].

More eBooks? Check out
our complete collection
.
---
Recommended Articles
---