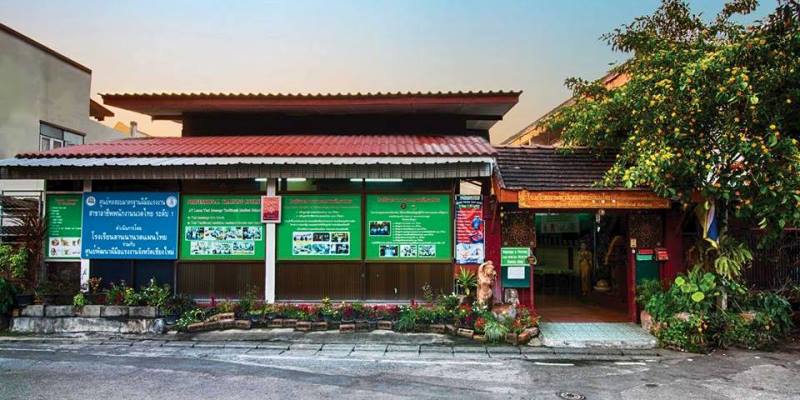 © Image from Lanna Thai Massage Traditional Medical School
Lanna Thai Massage School, also known as Lanna Thai Traditional Medical School since 2016, is located in Chiang Mai just outside the Old City, about 450m from the Tha Phae Gate. It was founded by Chaweewan Vitfan, who has over 2000 hours of Thai Massage studies done under the Thai Ministry of Public Health. She is also a very accomplished practitioner and teacher, with more than 13 years of experience. Ms. Vitfan teaches "Lanna Thai Massage" which is what she calls "my style of Thai Massage," mixing Thai Royal Massage with Northern style techniques.
The school offers a wide range of Thai Healing Arts training courses, from short introductory classes to professional diploma courses, as listed below:
▶ Applied Lanna Thai Massage Course (5 Days – 30 Hours or 10 Days – 60 Hours)
▶ Foot Reflexology Massage (5 Days – 30 Hours or 10 Days – 60 Hours)
▶ Oil Massage (5 Days – 30 Hours )
▶ 1 Day Thai Massage Course + Reusi Datton (6 Hours)
▶ Tok Sen Ancient Thai Therapy (2 Days – 12 Hours)
▶ Herbal Ball Making (1 Day – 6 Hours)
▶ Back, Head & Shoulder (1 Day – 3 Hours)
▶ Advanced Stretch (1 Day – 6 Hours)
▶ Diploma in Traditional Thai Massage (134 Days – 800 Hours)
▶ Diploma in Thai Traditional Medicine Assistant (330 Hours)
The courses can be given in groups or privately, and you can book directly on the website. Lanna Thai Massage School is certified by the Ministry of Education and Public Health and affiliated to the Thai Healing Alliance International. The school is open Monday to Friday, from 9:00 am to 4:00 pm.
---

---
---
Related Articles