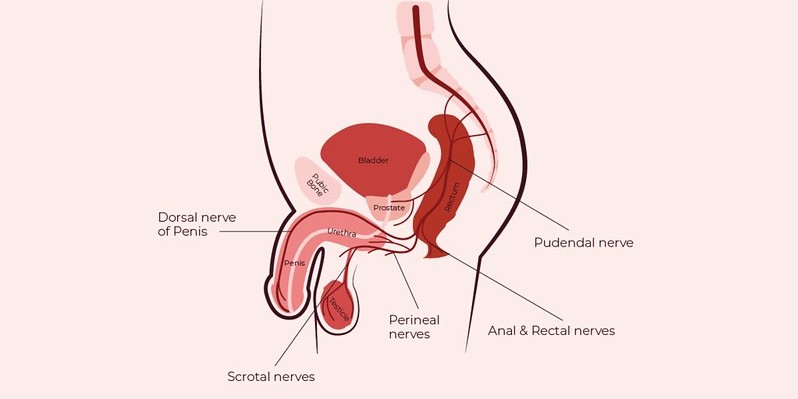 © Image from Alex B Porter
The prostate is a small gland of the male reproductive system found in most mammals, but anatomically, physiologically, and chemically it differs substantially among species. In humans, the prostate gland is usually about the size of a walnut and it's found below the bladder, in front of the rectum, and surrounds partly the tube (urethra) in the penis that leads pee from the bladder.
The main function of the prostate is to secrete a fluid, which is milky or white in aspect, that in humans usually contains about 30% of the volume of semen along with spermatozoa and so-called seminal vesicle fluid. Prostatic fluid is expelled in the first part of ejaculation, together with most of the sperm. The prostate also has some muscles that help excrete semen during ejaculation.

eBook | Click for details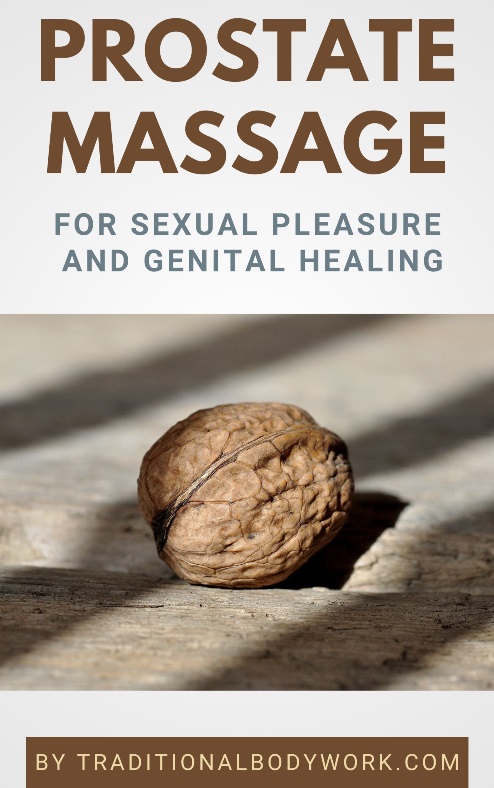 On aging (particularly men over 50), the prostate can become larger, which is a normal process of aging for most men. Because the prostate surrounds part of the urethra, it can start to squeeze the tube. This can cause problems when trying to pee, or feeling the urge to pee very often (and very little with dribbling). Typical classical treatment solutions might be medicines, lifestyle changes, or surgery.
Two other main problems that may arise with the prostate are firstly so-called Prostatitis, which is an infection or inflammation of the prostate and can cause trouble urinating, chills and fever, or sexual problems (for instance pain in the genitals or pain when ejaculating), and secondly — prostate cancer.
In Thailand, there are some ancient treatments used to alleviate or even cure prostate health issues. Let's take a look at some of the typical Thai traditional treatment solutions.
Karsai Nei Tsang
Thai Genital Detox Massage or Karsai is a traditional form of sexual organs therapeutic healing and detox massage for both men and women. The goal is to cleanse, heal and stimulate the genital system.
Treatments focus on relieving or eliminating issues like frequent and difficult urination, prostate problems, impotency, Premature Ejaculation (PE), painful menstruation, or painful scar tissue after giving birth, fertility, low sexual libido, and painful intercourse.
More info about Karsai Nei Tsang, clinics, healers, service providers and where to receive treatments you can find in our article Karsai Thai Genital Massage Treatments and Services in Thailand.
Chi Nei Tsang
Chi Nei Tsang or Abdominal Chi & Internal Organs Massage is a healing touch massage modality combining ancient Chinese and Thai Massage and meditation techniques which focus mainly on the abdominal area.
The techniques used in Chi Nei Tsang aim to clear energy blockages within the abdominal area and the internal organs in order to reduce, alleviate, or eliminate chronic pain and to treat conditions such as headaches, menstrual cramps, sciatica, infertility, impotence and prostate problems as well as trauma and depression, among other symptoms and health issues.
Read more about where to get treatments in Thailand in our article Chi Nei Tsang Thai Abdominal Massage Treatments in Thailand.
Jabkasai Genital Massage
A Jabkasai Testicles Massage is an ancient genital therapeutic treatment and linked directly to sexual and reproductive health benefits. The treatment is done directly on and around the testicles.
The goal of a Jabkasai treatment is to stimulate the reproductive function and internal organs. It has a strong focus on resolving impotency, erection dysfunctions, frequent urination, premature ejaculation, and fertility problems.
More info about Jabkasai, places, therapists, service providers and where to receive treatments you can find in our article Jabkasai Genital Massage Treatments and Services in Thailand.
Thai Womblifting Techniques
Thai Womb Lifting is a traditional Lanna Thai healing technique that involves hot sea salt crystals in a clay pot wrapped in medicinal leaves and applied as a compress. It also uses acupressure on the abdomen, legs, buttocks and back.
The treatment is applied for both post-natal health and for fertility problems, and for overall feminine health and well-being. Quite similar treatments are used for prostate problems of men.
Read more about this and treatment options in our articles The Genital Massage Industry in Thailand and Testicles and Uterus Massage Courses in Thailand.
---

---
---
Related Articles