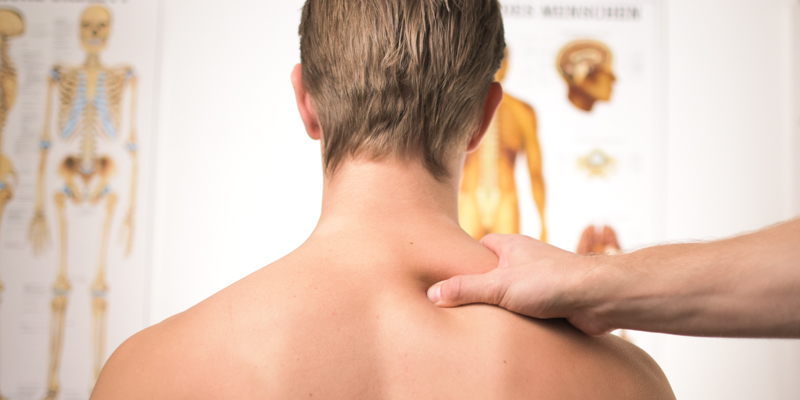 It's interesting to see that many spas and massage parlors in Thailand offer Thai Massage treatment sessions for the Head, Neck & Shoulders. Yet, even more interesting is the fact that just a fraction of the Thai Massage schools in Thailand offer training courses in the modality.
But why? Well… a Traditional Thai Massage session is basically a full-body massage covering the whole body and not just a part of it. Nevertheless, it makes sense to offer sessions that only treat the head, neck & shoulders, because these are parts of the body that suffer a lot from tension, especially nowadays in modern societies where work stress and prolonged sitting positions with strenuous activity for the eyes, head, neck and shoulders have become very common.
Moreover, a session can be given easily—the client can simply sit on a chair—and it can be done quickly (often it takes about 30 minutes) giving the client perhaps not structural relief, but at least temporary relaxation.
Thai Head, Neck & Shoulder massage courses are more often offered in the West than in Thailand. It goes nicely together with Chair massage and it's a modality that scores well as an on-site treatment service for office workers.
Be that as it may, there are certainly Thai Massage schools in Thailand that offer separate Head, Neck & Shoulder massage courses. It's an exception, for sure, because most of the massage work on the head, neck and shoulders is taught integrally being part of a full-body treatment in the general Thai Massage courses.
Below a list of the Thai Massage schools we've found in Thailand offering distinct Thai Head, Neck & Shoulders massage training courses. For more massage schools offering other Thai modalities, please visit our Training in Thailand page.
The Thai Massage center in Chiang Mai offers only private courses with a maximum of 2 students. The school is located near Loi Kroh Street and not far from Tapa
[Read More...]
The Banyan Tree Spa group originates on Phuket. This luxury spa near Laguna Beach has branches around the globe like for instance on the Maldives, in Indonesia,
[Read More...]
Chiva Som has won many prizes for being the best Spa Educator in Thailand. In fact, the academy offers an vast amount of Spa, Wellness & Beauty training co
[Read More...]
The CLS Massage School is located in Chiang Mai, and profiles itself as a Thai Therapy and Thai Spa massage school. There is on-campus residential accommodatio
[Read More...]
Harmony House offers Energy Healing and Massage Training Courses at Khanom Beach (Surat Thani), Thailand. Training courses are given by Master Jet Lie. The plac
[Read More...]
The founder and owner of this Thai Massage school in Chiang Mai is teacher Chaweewan Vitfan. The school offers a broad variety of Traditional Thai massage and b
[Read More...]
The Lanna Thai Spa Academy in Bangkok offers a broad variety of both Thai, other Asian and Western spa courses and workshops.
[Read More...]
Loi Kroh Massage, founded in 1999, is one of the established Thai Massage schools in Chiang Mai. Apart from their in-depth Thai Massage training programs, the s
[Read More...]
Namo in Chiang Mai offers Thai Massage and Yoga classes, and a variety of other Massage & Bodywork courses. The school focuses on shorter term courses, ran
[Read More...]
A full service Spa salon near Patong Beach, but the establishment offers a variety of Thai Massage and Spa Training also. Has a small offering of Spa products i
[Read More...]
Pimalai Resort and Spa is a luxury spa hotel on Koh Lanta and offers some short Thai traditional bodywork workshops.
[Read More...]
© Sabai De Ka Massage School The Sabai De Ka Massage School was founded in 2004 by "Kloy" Thanyanet Pothamoon. Initially, Sabai offered only massa
[Read More...]
Treatment center and training provider in Bangkok.
[Read More...]
This center in Bangkok is specialized in Thai Facial treatment and courses. Also offers an instructor training program. Besides Facial Massage training a broad
[Read More...]
The academy was founded by Shama Kern who lives in Chiang Mai. The Thai Healing Massage Academy offers online Thai massage training programs only.
[Read More...]
Oasis Spa is a group of Spas with branches in Chiang Mai, Phuket, Pattaya, and Bangkok. Education is fundamental for Oasis Spa. They offer a wealth of Thai, oth
[Read More...]
---
---
Related Topics