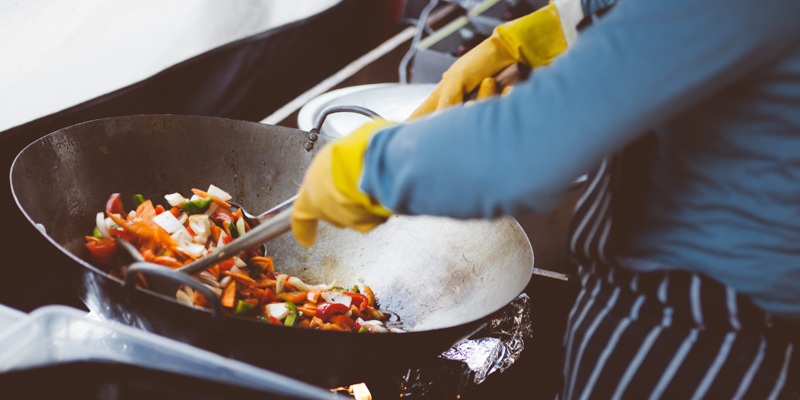 Taking Thai cooking classes in Thailand are among the most popular cultural activities done by tourists in the country. The options are endless and ever increasing, be it in proper Cooking Schools for amateurs and professionals, or inside a resort by the beach. Courses can be given by a renowned Chef, or by local Thais who have had the valuable experience of learning from their ancestrals and cooking for their families for years.
But why are Thai cooking classes so popular? Well, Thai cuisine is simply delicious and highly recognized for being so. In fact, seven Thai dishes are on a list of the "World's 50 Best Foods" — an online poll that CNN Travel made in 2017. Plus, the Thai are a people very proud of their cultural heritage and have a talent for "exporting" and sharing this heritage. These two factors make a winning combination in attracting tourists to learn and be able to reproduce a few of the traditional Thai dishes at home.
What Goes On In a Cooking Class
In general, a cooking class has a duration of half a day, and you can learn to make a few dishes (usually 3 to 4) – almost always with the option of choosing vegetarian meals. Sometimes desserts recipes are also included. The basics of the also popular fruit and vegetable carving techniques are often taught as well, or you can choose to have a specific class only for that.
Most Thai cooking schools or resorts also include a local market tour where the participants go with the chef to buy all the ingredients, and some offer the experience to pick vegetables from an organic garden, if they have one. The class sizes vary greatly, from private lessons to classes for 10, to 15 people.
You can learn how to make a variety of typical Thai dishes, such as dips and sauces, appetizers, stir-fried dishes with rice or noodles – like the famous Pad Thai (Thai-style fried rice noodles); steamed, grilled, or deep fried dishes – mostly with chicken, pork or fish/seafood; salads – like the Papaya salad (Som Tam); the popular curry pastes; a great variety of soups – like my favorite Chicken in coconut milk (Tom Kha Gai) and of course, desserts – like the also popular mango with sticky rice (Khao Neaw Moon) and the deliciously fluffy coconut pancakes (Ka Nom Ba-Bin).
The Thai Delicious Project
But, a problem arises—how to prepare these dishes when you're back home, if you cannot get a hold of the traditional, fresh ingredients? This becomes a real issue for Thai restaurants abroad, of course. And, as it happens with Indian and Chinese food as well, Thai people abroad end up adapting their recipes, for lack of easy access to the original ingredients or to cater to the different palate of the Westerners.
As it was noticed that the quality of Thai dishes abroad, and many times also in Thailand, decreased and went further away from traditional recipes, Thailand's National Innovation Agency (NIA), a public organization under the Thai Ministry of Science and Technology, created The Thai Delicious project, originating from the Thai Kitchen to the World campaign in 2012.
The project was basically to develop standard and "authentic" Thai recipes, and they even built a robot to help with that. The so called "e-delicious machine" was described as "…an intelligent robot that measures smell and taste in food ingredients through sensor technology in order to measure taste like a food critic."
With the help of this "tasting" robot (and afterwards also with help of humans) the same dishes, prepared in different ways, would be rated for "authenticity" and perfection, creating standard recipes. Today, the restaurants that follow "officially sanctioned recipes" can proudly add a Thai Delicious logo to their menus.
The Thai Delicious Food International Co.,Ltd. was also created with the aim to develop ready-to-cook products based on these standardized recipes, targeted to Thai restaurant owners in foreign countries and solve both problems at once.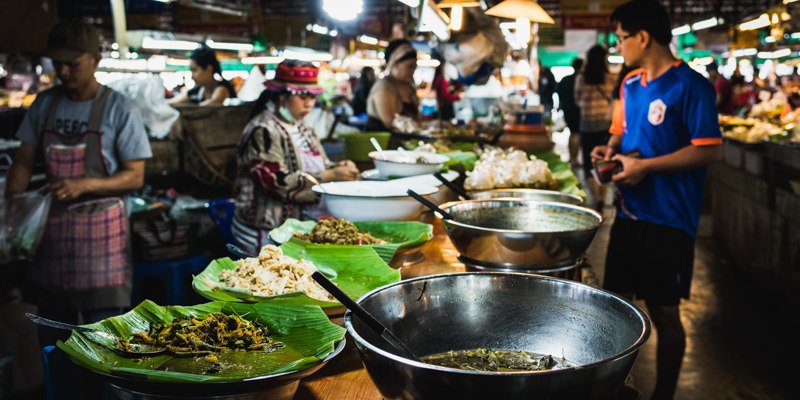 Not everyone was or is a fan of this, of course. Tradition is not something stuck in time that never changes, and people's personal tastes can vary greatly. If a restaurant makes a certain dish with extra basil or garlic, there will be people who love it for just that, and don't want a version with exactly balanced ingredients – guaranteed by a robot.
The richness of Thai food has also come about because of its diversity, as it happens with cultural aspects in general. Thus, trying to make Thai Food recipes that have government-approved standards is somewhat questionable, and, on a practical level, I'd say it's just impossible.
In any case, we can see that in Thailand, food is a serious (and profitable) business. And I hope that the different dishes will continue to be "same-same but different."
---

---
---
Related Articles