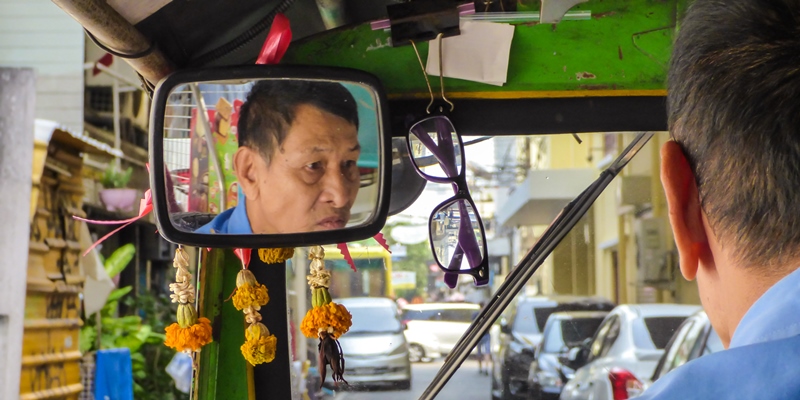 © Image from TraditionalBodywork.com
For those just arriving in Thailand for the first time, finding your way to get around can seem like a daunting enterprise – especially if you are looking for public transportation.
In reality, there are tons of transport options in Thailand, so the difficulty doesn't exactly lie there. The main problems are of course the sometimes overwhelming language barrier and the cultural differences, which can be quite something if you are a Farang (Westerner).
So, let's explore a bit the options you have to move around in Thailand:
Taxi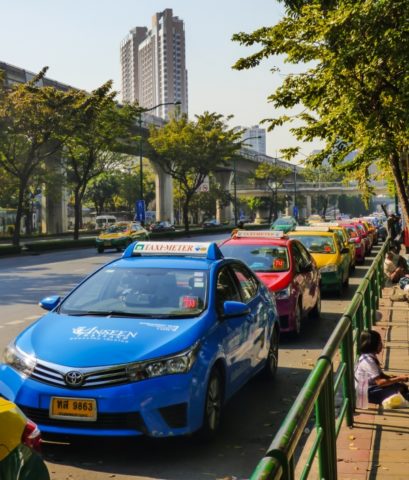 This of course doesn't need much explanation, and taxis can be found easily in the tourist areas. But it does need some words of caution. Giving the taxi driver your destination address can prove to be an almost impossible task, so the best way to go about is to always have the address written in the Thai language on paper or on your phone.
Another thing to notice is that some taxis offer to turn on the taximeter, while others just agree on a price before hand (and there you can always try to bargain, of course).
And last but not least, taxi drivers in Thailand – especially in Bangkok – are known for agreeing to take you some place, but if encountered with heavy traffic can just kick you out of the taxi with any lame excuse. So, depending on the time of the day and where you're going, take that into consideration and if you're about to catch a flight at the airport always travel with plenty of time to spare.
Bus
Local buses that run within the municipality only exist in bigger cities and it can be very hard (if not impossible) to find their schedule and routes, as most information will be only in Thai – an exception is Bangkok, where the buses run everywhere and it's a bit easier to get info online.
Intercity buses are very common and wide spread, you can get to almost anywhere by bus, it's cheap and you can even buy tickets online, often with many options of comfort, depending on your budget. If you cannot or don't want to buy your tickets online, just pass by a main bus station where you'll find many private travel companies offering tickets.
Additionally, in tourist areas, you'll certainly find many little travel/ tour agencies selling bus tickets also. A little word of caution: avoid buying the cheapest option, for that will often prove to be a very crappy bus (ride).
Train
Thailand has a good railroad system, very much used by Thais and tourists alike. It runs basically all over the country, definitely between the main cities and destinations like Chiang Mai, Bangkok, Hua Hin, Hat Yai, Pattaya, Surat Thani, Ayutthaya, and so on. The trains are quite slow (average speed of 40km/h), and are often delayed, but if you have that in mind and have time to spare, it's a very nice ride and a chance to experience a lot of the "real life" in Thailand, seeing many locals coming in and out while having great views of the countryside.

eBook | Click for details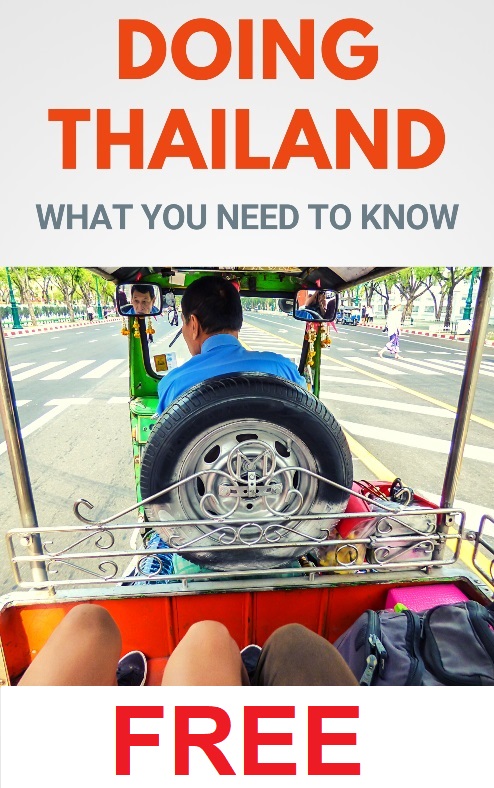 The trains are very affordable, the cheapest way to travel long distance in Thailand for sure, and there are many options of seats to choose from. 3rd class tickets are ridiculously cheap and very much used by Thais, as the train stops in many villages in the countryside; it gives you a small seat in a wagon with no a/c. From that on, you can choose more comfortable options, with a sleeper seat (your seat turns into a quite comfortable bed during the night), with fan or air conditioner, all reflecting on the final price of the ticket, of course (and still cheap for any Westerner's point of view).
It's also advisable to always book your tickets in advance – at the train station or online – because they can run out fast (especially around the time of national holidays). Inside the trains you'll see many vendors coming in offering all kinds of food and drinks, so you'll definitely not go hungry. Just be careful with the spice-factor, as you'll probably soon realize after a few meals in Thailand – they often say the food is not spicy, but that is not the case at all.
Tuk-Tuk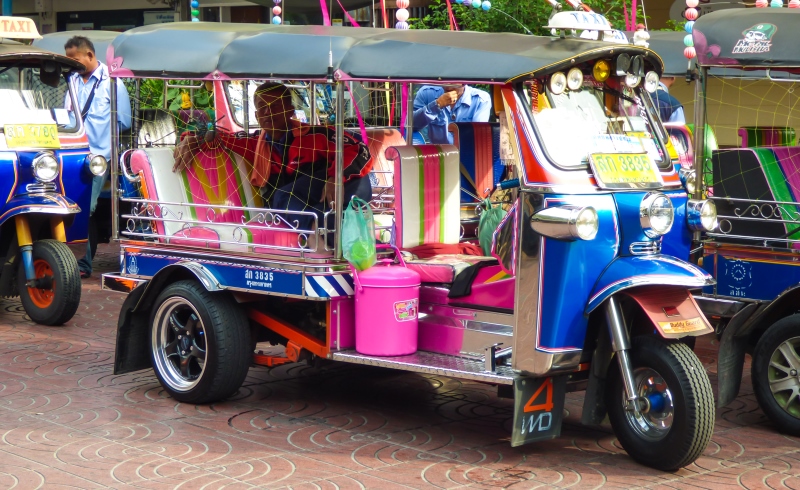 © Image from TraditionalBodywork.com
Tuk-tuks (auto rickshaws) are a famous and very common transportation option in Southeast Asia, and there are many types of tuk-tuks to be found across Thailand – bigger ones that almost look like a small car, and smaller ones driven by a Thai on a bicycle (cycle rickshaw).
The fare price always needs to be negotiated beforehand (if not, the final price will surely be higher than you would expect or want), and also, as counts for the taxi – if it's a specific address, have it in Thai to show the driver. Safety is also a bit of an issue, because they drive pretty fast and often times carelessly and you're basically in a totally "open" vehicle, so be prepared for a bit of adrenaline. Also, as it's almost a touristic ride, they are often more expensive than other types of transportation, so keep that in mind.
Plus, like with the taxis, Tuk tuk drivers can also be unreliable when it comes to being stuck in traffic.
Minivan
Minivans often offer transport to places where there are no buses, or just as a faster or extra alternative to buses or songthaews (see below for what is a songthaew). They can be often described as taking a hell-ride, because they go super fast and many times carelessly, and there is not much comfort involved especially if you have backpacks/luggage with you. Plus, they often over-crowd the minivan, to top it off.
So I'd only recommend a minivan for destinations where you really have no other option and which are not farther away than a 2 hours' drive. If it's a minivan within the city, you can catch it the same way as a songthaew, just hail and they'll stop for you.
Songthaew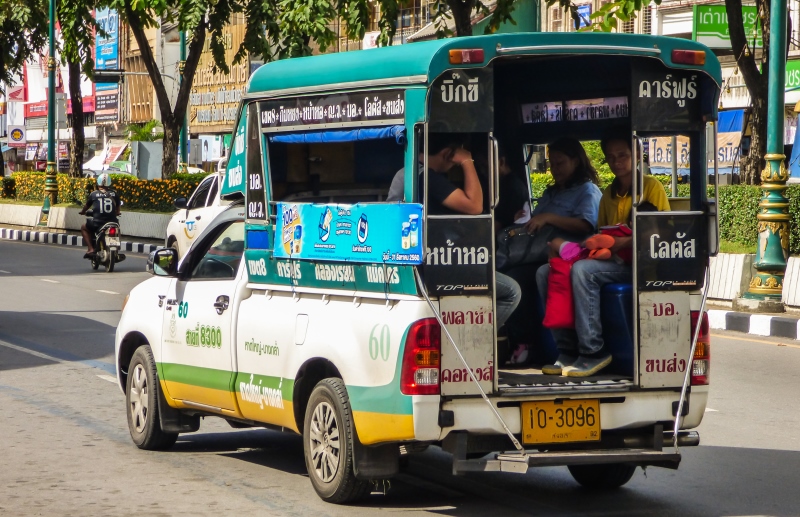 © Image from TraditionalBodywork.com
Songthaews are basically pick-up trucks with seats and a roof at the back, adapted to take passengers. It works as a bus, and it is the most common, sometimes only widespread public transportation available in many Thai cities. It's not the most comfortable experience and many people even ride standing up on the outside of it, but it's cheap and it will get you to your destination – and as I said, if you're on a budget and need public transportation, often times you have no other option. You can get them anywhere, just hail on the street and they'll stop for you, as there are no official "songthaew stops".
The main problem with them is, again caused by language barrier and lack of info available, that it's very difficult to find out their exact routes (to know when to hop-off) and to find out some kind of time-table. You just have to go to the street, wait for one to pass by, try asking if they go where you want to go, and repeat until you're successful.
The songthaews usually have different colors (which designate certain routes or areas served) and in fact have their destinations written on them also – but most of the time only in Thai. Depending on the city you're in, you'll get more easily specific info about them – like in Phuket, as it's a very touristic place.
But in other cities it can be more challenging. Also, songthaews are notorious for staying put at strategic spots waiting for customers to fill up the truck before actually starting to drive – and repeating the same thing along the way, at other strategic spots, such as a school near the end of classes, etc. Again, not a good option if you're looking for punctuality, but as almost nobody is punctual in Thailand anyway, you shouldn't worry too much about that.
Motorcyle
In most cities there are quite some options of motorcycle taxis which, like the tuk-tuks, are often in a touristic or busy area waiting for customers. It will be a ride full of adrenaline, as you are taking a vehicle that is not the safest, goes (too) fast, and the traffic in Thailand is quite chaotic. But it can be a fast (and sometimes only) transport option in times of need.
You can also rent a motorcycle and ride it yourself, of course. Renting a motorcycle in Thailand is quite easy and can be done almost anywhere – probably even in the guesthouse you're staying. It's quite cheap and in many places, especially more informal ones like a guesthouse, you can rent it without showing any documents or license.
However, in the past years, Thai authorities are trying to be more strict with that and nowadays you often need to show your license and even leave your passport with the agency as a guarantee. Just be sure to always wear a helmet, even if most Thais don't wear them and get away with it, reckon that the laws are applied more strictly for foreigners.
That being said, it's still very common to see tourists renting motorcycles and scooters, but it's always a huge risk. There's no real "insurance," the traffic in Thailand, as mentioned before, is chaotic and dangerous for the most part. And if any sort of accident happens, you'll be the culprit no matter what, just for being a foreigner, so be advised.
River Boat/Ferry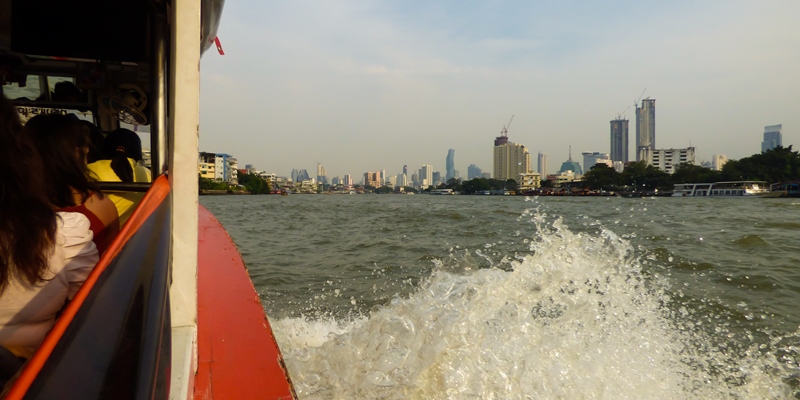 © Image from TraditionalBodywork.com
Also available in Bangkok, the river boats aka Express boats are a great way to get around, very affordable and with nice views of the Chao Praya river and Bangkok's cityscape. Again it will be useful depending on where you're staying, but it caters well for visiting the "historic center" if we may call it like that, with the Grand Palace and Wat Po Temple – it's cheap and anyway a nice ride just by itself.
The ferries are the transport means available to take you to the islands, and you can often buy tickets with tour agencies that already sell you the combo. For instance, if you're in Bangkok and want to go to Koh Samui you can already buy your combo-ticket Bangkok-Surathani by bus or minivan, and Surathani-Koh Samui by ferry. You can choose between a normal ferry which takes longer, or a speedboat, a smaller boat which is faster and more expensive. Punctuality is not the strong suit here either, and the ride can make you quite nauseous (especially on the speedboat), so be prepared for that.
Car
You can also hire a car, as there are many agencies offering rentals. But the same problems as riding a motorcycle arise, so be sure that you can really handle the Thai traffic and that you get a good insurance. Also, remember that in Thailand you need to drive on the left side of the road, so take that into consideration if you're not used to it.
Airplane
There are many national/ domestic flights, offered by Air Asia, Nok Air, Thai Lion Air and Thai Smile Airways to name the main airlines, which you can use to get around within the country. Thailand is quite big, and if you're in the South (Hat Yai or Songkhla, for example) and need to go Chiang Mai, catching a flight would be the fastest option of course, as traveling by land more than 1,500 km will take some time. It's perhaps not the cheapest option to travel in Thailand, but still very much affordable.
Metro/Sky Train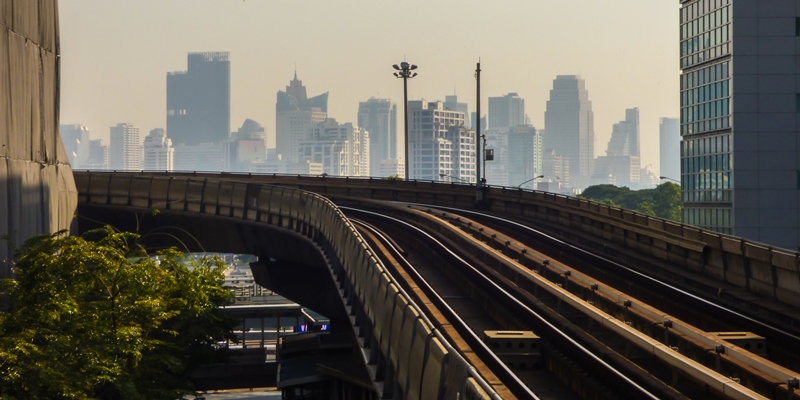 © Image from TraditionalBodywork.com
This option is only available in Bangkok's metropolitan area, and it's a great option to get around in the city – I'd say it's probably the best, but that will depend on where in Bangkok you're staying. If staying in the popular Khao San Road, there's no metro station near, unfortunately. But even so, depending on where you need to go, it would be best to take a taxi or tuk-tuk until the nearest metro station and from there on take the metro. If going to the airport, it's probably the best, fastest, cheapest and most reliable option – although not the most comfortable, as it can get quite crowded – an unavoidable reality in all major city nowadays.
Bicycle
Bicycling in Thailand depends a lot on where you are, with Chiang Mai being the place to do it, as it's full of farangs and you see them biking everywhere. However, in most of the country there are no real bicycle lanes, and the traffic is very intense and full of cars, motorcycles, trucks and buses that run on diesel and use no filter, so you can imagine it's not the most pleasant experience to bike there. But if you're on an island, or smaller city more in the countryside, it can surely be an option if the terrain is somewhat flat.
Walking
Thailand is not the place you go to have a pleasant stroll in the city, as most cities' infrastructure is a bit chaotic and with no sidewalks at all – or totally taken over by shops, street vendors, and mobile "restaurants." Now surely you can walk, you'll just need to pay a lot of attention and keep making detours, avoiding all the obstacles. Besides that, it's very interesting and a good way to get to experience the real life in Thailand.
Mind that walking is in fact seen as "low" for Thai people, because for them it means that the person is so poor that she/he cannot buy even a motorcycle and needs to walk. So be prepared to get a lot of stares if you start walking everywhere (which is not much of a issue really, because as a foreigner you will be stared at no matter what).
Apart from that, it's quite safe going about, but it's always advisable to not go walking in dark alleys and sketchy neighborhoods alone/drunk at night, just applying normal common sense to travel safely anywhere.
Hitchhiking
Although hitchhiking is not so common in Thailand, you can certainly explore this option as well. The country is very safe and the people are usually quite friendly and helpful – just follow the usual hitchhiking etiquette and precautions.
The best option is to go a bit outside the cities to try and catch a ride – otherwise the only vehicles that will stop for you when you put your thumb up will be the tuk-tuks and songhtaews. It's also advisable to have something written in Thai explaining why you're doing it and where you want to go to help to communicate better, as most Thais don't speak any English and can find it weird to see Farangs (always seen as people with lots of money) asking for a ride.
Grab
Grab is a popular app in Southeast Asia, basically an Asian version of Uber, available in all major cities (and even some islands) in Thailand. It can be very useful, being cheaper than a taxi or tuk-tuk and especially handy at night when there are no (or very limited offerings of) songthaews and minivans.
---

---
---
Related Articles