Thai Massage students who for the first time enroll for a Thai Massage training course have a variety of motives to join. Apart from simple "curiosity" or "just doing something fun and different" there are quite a number of students who are in the midst of a life or career change.
The latter group looks for another meaning or occupation in their lives, wants to make a change, and perhaps will opt to becoming a Thai Massage therapist if doing (giving) Thai Massage makes them feel good or better.
Others again join not so much with the idea of becoming a practitioner, but to have some quality time together with other people while at the same time doing some healthy bodywork and perhaps learn something from it to share with others.
Whatever the exact motives and feelings, what we need to understand as a Thai Massage teacher is that a group of Thai Massage students is very mixed as for the emotional characteristics, notably in foundation or beginner courses, and that we need to try to assess and guide each student (and the group as a whole) in a way that's suitable.

Our eBook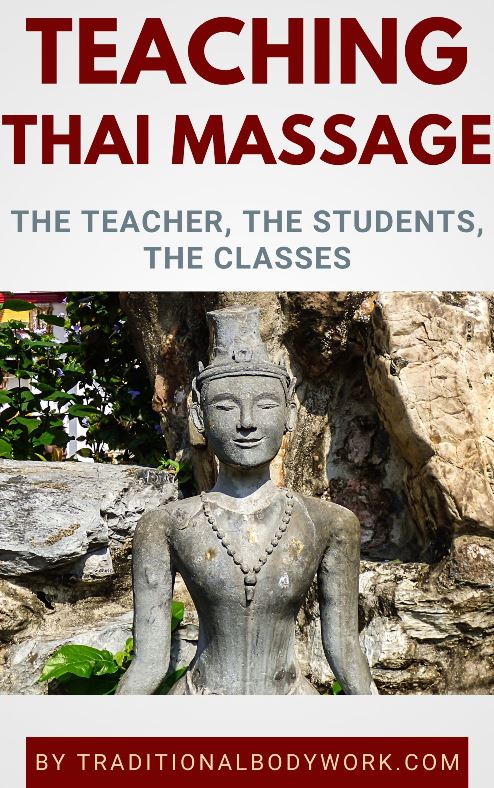 Moreover, in Thai Massage courses that have a longer duration, say a week or two weeks, Thai Massage students may experience intense detox and emotional release as a result of being massaged for hours each day during the trainings. It's good to make students aware of this phenomenon beforehand.
Another thing we need to be aware of is that emotions may change during the course time. Some students get bored or angry and others by contrast start to get very enthusiastic, and so on.
To make a long story short, a Thai Massage instructor needs to be more than only the person who teaches Thai Massage techniques. Especially with Thai Massage, a healing modality that can evoke so many intense emotions, a teacher needs to be able to handle the emotional and psychological realm in an adequate fashion.
---

---
---
Related Articles