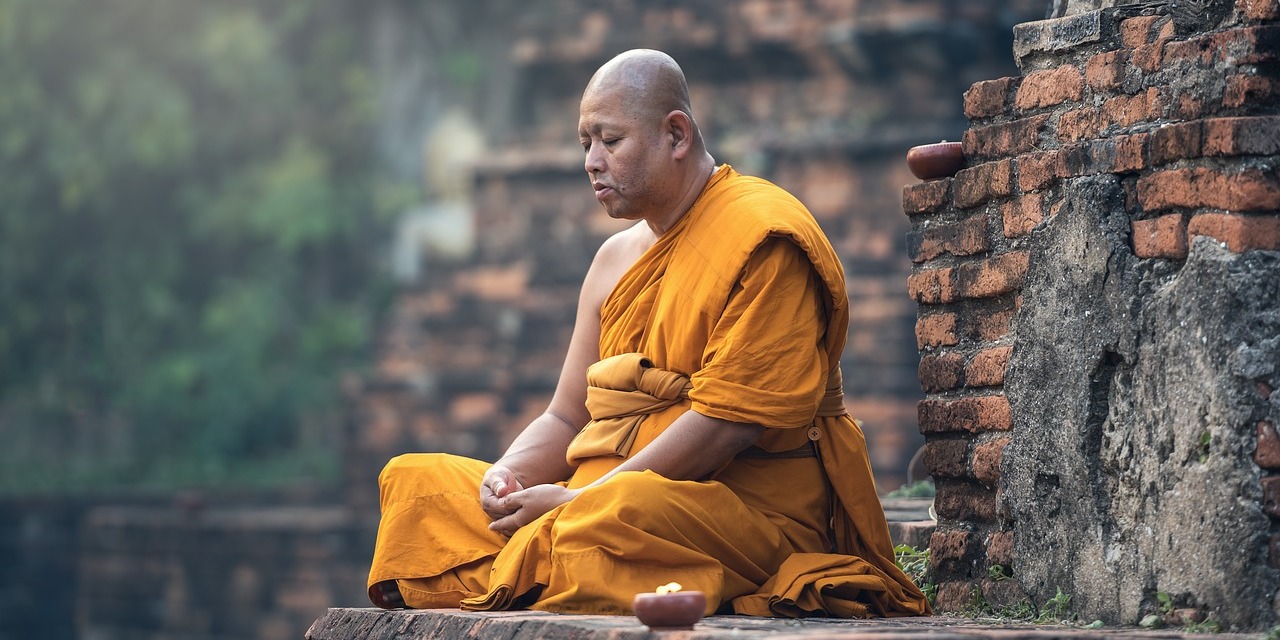 Thai Vipassana Meditation Centers and Training Courses in Thailand are omnipresent, sprawled across the country. Many centers are located on the temple grounds of Thai Buddhist temples (the so-called Wats) and connected to the temples, but others are simply independent meditation centers.
Increasingly we find that Spa & Wellness Retreats and Resorts also offer meditation workshops, sessions or packages in their activity programs, including Thai Vipassana Buddhist meditation training and other Mindfulness trainings. Sometimes these trainings are rather short (more to be seen as a brief introduction), but then again some resorts offer full-fledged training retreats with a duration of, for example, 7 or 12 days.
In general, meditation courses and retreats come in many forms—training duration from 1 day to 1 month or longer, with everything in between, a variety of different daily schedules and conduct rules, Thai only or also for foreigners, online registration or only in person, different styles and focus of Vipassana meditation practices like more or less emphasis on sitting, lying, walking, breathing, or working meditation, and so on.
Some Vipassana retreats also include Thai Samatha meditation training, which should be seen as a preparation and aid for Vipassana Insight Meditation.
It's good to first carefully read the info supplied by the Vipassana centers before registering. There are often a range of prerequisites, such as the documents (passport, visa and the like) to be handed in, certain type of clothing, type of food supplied, use of electronics, just to name a few.
Most of the Vipassana training courses are for free, that is—on donation basis. Now and again, meditation centers do ask a fee per day, but that is most of the time only for food and drink expenses, not for the courses itself.
Anyway, in this article we'll take a look at the Vipassana Meditation training centers we've found in the Chiang Mai region, Northern Thailand.
Ban Sabai Resorts & Spa
Ban Sabai Resort and Spa is a full service Spa and Wellness center that additionally offers a broad variety of massage and bodywork training classes, Spa, Detox and Yoga Programs, and Vipassana and Mindfulness
[More info...]
Buddho Yoga
Buddho Yoga offers Yoga teachings based on alignment and transformation. Offers 200-hour yoga teacher training courses in Chiang Mai. Meditation training is part of the Yoga teacher training program and exercis
[More info...]
CLS Massage School
The CLS Massage School is located in Chiang Mai, and profiles itself as a Thai Therapy and Thai Spa massage school. There is on-campus residential accommodation available. Thai Spa Courses & Workshops rang
[More info...]
Dhamma Sīmanta
Dhamma Simanta (Boundary of Dhamma) in Lamphun (40 km south of Chiang mai) offers courses and training in Vipassana Meditation as taught by S.N. Goenka in the tradition of Sayagyi U Ba Khin. The center offers 1
[More info...]
Doi Suthep Vipassana Meditation Center
The Doi Suthep Vipassana Meditation Center is located in Chiang Mai and practices Satipatthana Vipassana (Insight Meditation in line with the 4 Foundations of Mindfulness) based on the teachings of the Venerabl
[More info...]
Monk Chat
Monk Chat is a joined initiative of the MCU. Buddhist University, Chiang Mai and the Wat Suan Dok Chiang Mai monastery. The program consists of ongoing 1-day and 2-day meditation retreat Workshops in both Conce
[More info...]
Suan Sati Retreat Center
Suan Sati is a Yoga retreat center in Chiang Mai offering Yoga, Meditation and Permaculture training options.
[More info...]
Wat Phra That Si Chom Thong
Wat Phra That Si Chom Thong (also known as Wat Phradhatu Sri Chom Thong) is a Buddhist Temple in Chiang Mai that offers Vipassana Insight Meditation training courses since 1991. The meditation center was founde
[More info...]
Wat Ram Poeng | Wat Tapotaram
Wat Ram Poeng (Rampoeng), also known as Wat Tapotaram, is a famous Buddhist temple in Chiang Mai and a Northern Insight Meditation Center that offers a 26 Day basic residential course in Vipassana Meditation (V
[More info...]
Wat Sriboonruang Vipassana Meditation Center
The Wat Sriboonruang Vipassana Meditation Center in Fang (Chiang Mai province) offers a 10-day and 1-month Vipassana training program, but one can stay as long as one likes within visa permissions. Runs on dona
[More info...]
Wat Tam Doi Tohn
The temple is located at Ban Mae Sapok village in the Mae Win district, about 67 km south of Chiang Mai. Vipassana meditation retreats with a duration of 7 or (more rare) 15 days are offered. The focus of the m
[More info...]
Wat Tham Thong Monastery
Wat Tham Thong Monastery Wat hosts a Vipassana meditation center in Northern Thailand. The center is a branch of Wat Mahathat in Bangkok. Vipassana teachings are based on methods taught by Mahasi Sayadaw, but
[More info...]
Wat Thaton Vipassana Meditation Center
Wat Thaton in Chiang Mai can accommodate a maximum of 20 students (recommended reservation is two weeks in advance). New students are asked to stay for a minimum of 7 days for their first retreat.
[More info...]
Wat Umong Meditation Center
The Wat Umong Meditation Center was founded for the propagation of theoretical and practical Buddhism, and for the promotion of peace and happiness among all human beings. The center is a forest monastery at th
[More info...]
Yoga Center Asia
Yoga Center Asia, based in Chiang Mai, is a team of multinational yoga, meditation, and mindfulness professionals. The center offers Yoga Alliance Yoga Teacher Training Courses and Meditation Retreats.
[More info...]
---
---
Related Topics