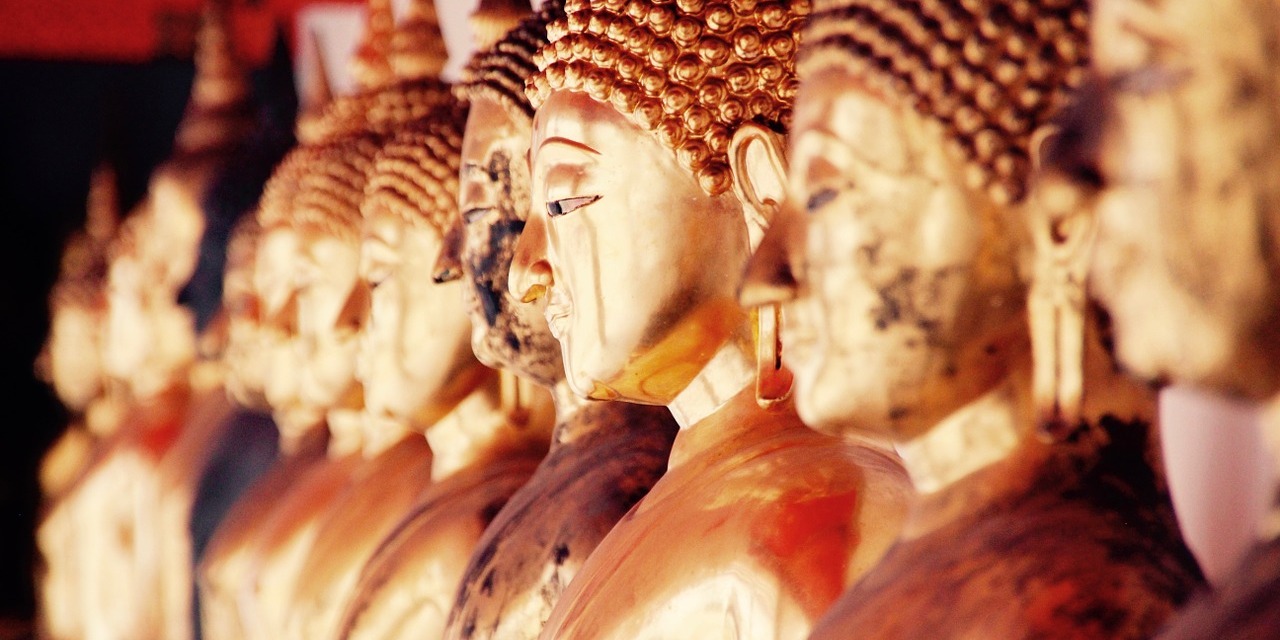 Thai Vipassana Retreats and Courses in Thailand are popular and available across the country. Most training centers are located on or near temple grounds of Thai Buddhist temples, but some are simply independent training centers not connected to temples or monasteries.
Vipassana Meditation trainings have various time spans, from just one day up to one month or even longer. Some retreats or courses can only be attended if certain previous trainings have been taken. Styles, (daily) schedules, lineages, techniques, emphasis, and conduct rules vary widely.
It's advisable to thoroughly read the info supplied by the Vipassana centers before enrolling. There are often a range of prerequisites, such as certain documents (passport, visa and so on) to be handed in, certain type of clothing to be worn, type of food supplied, and so on.
Most of the Vipassana training courses are for free, which means on donation basis.
Below you'll find the best known and most popular Vipassana Meditation and Retreat Centers we have found in the Bangkok area in Thailand.
Dhamma Dhānī Vipassana Meditation Center
Dhamma Dhānī means City of Dhamma. The center in Bangkok offers courses in Vipassana Meditation as taught by S.N. Goenka in the tradition of Sayagyi U Ba Khin. The program consists of 1-d
[More details...]

dhani.dhamma.org
Little Bangkok Sangha
Little Bangkok Sangha regularly offers Open meditation, Vipassana meditation, and Qigong classes. Now and again, the group organizes special events and retreats.
[More details...]

littlebang.org

facebook page
Middle Way Meditation Institute (MMI)
The Middle Way Meditation Institute based in New York and Bangkok offers 3-day and 7-day Vipassana Meditation retreats across Thailand. See their events calendar for latest retreat offering
[More details...]

mmipeace.org
Rojana Dhamma Foundation
The Rojana Dhamma Foundation offers meditation and other related events in English and Thai. It also organizes a monthly Thai Buddhist or Theravada Puja ceremony.
[More details...]

facebook page
The House of Dhamma
The House of Dhamma, founded by Acharn Helen and located in Bangkok, offers small group instruction in Buddhist Insight Meditation (Vipassana), Loving Kindness Meditation (Metta) and Reiki
[More details...]

houseofdhamma.com
The World Fellowship of Buddhists (WFB)
The World Fellowship of Buddhists has its headquarters in Bangkok. The WFB missions are propagation of Buddhism, promotion of solidarity and unity of Buddhists all over the world. There are
[More details...]

wfbhq.org
The Young Buddhist Association of Thailand Under the Royal Patronage
The Young Buddhist Association of Thailand Under the Royal Patronage is located in Bangkok and offers Buddhist Dharma practice courses to young learners.
[More details...]

ybat.org
Wat Asokaram
Wat Asokaram is located in Samut Prakan, just south of Bangkok. Anapanasati is the main technique practiced, though meditation students are free to choose their own techniques, including Vi
[More details...]

watasokaram.org
Wat Dhammamongkol
Wat Dhammamongkol (Thammongkhon) in Bangkok hosts the Wiriyanu Meditation Center. The Meditation System is Anapanasati (mindfulness with breathing) in order to develop concentration along w
[More details...]

dhammamongkol.com

facebook page
Wat Mahathat |IBMC
Wat Mahathat Yuwaratrangsarit (Wat Mahadhat / Mahadhatu) is a Buddhist temple in Bangkok (near the Grand Palace) that offers Vipassana meditation courses hosted by The International Buddhis
[More details...]

mcu.ac.th/IBMC

watmahadhatutemple.com

watmahathat.com

facebook page
Wat Prayong International Meditation Center
Wat Prayong International Meditation Center in Bangkok offers Buddhist meditation retreats during the months November to February in English, German, and Thai.
[More details...]

meditationthailand.com

facebook page

More eBooks? Check out
our complete collection
.
---
Recommended Articles
---
spir