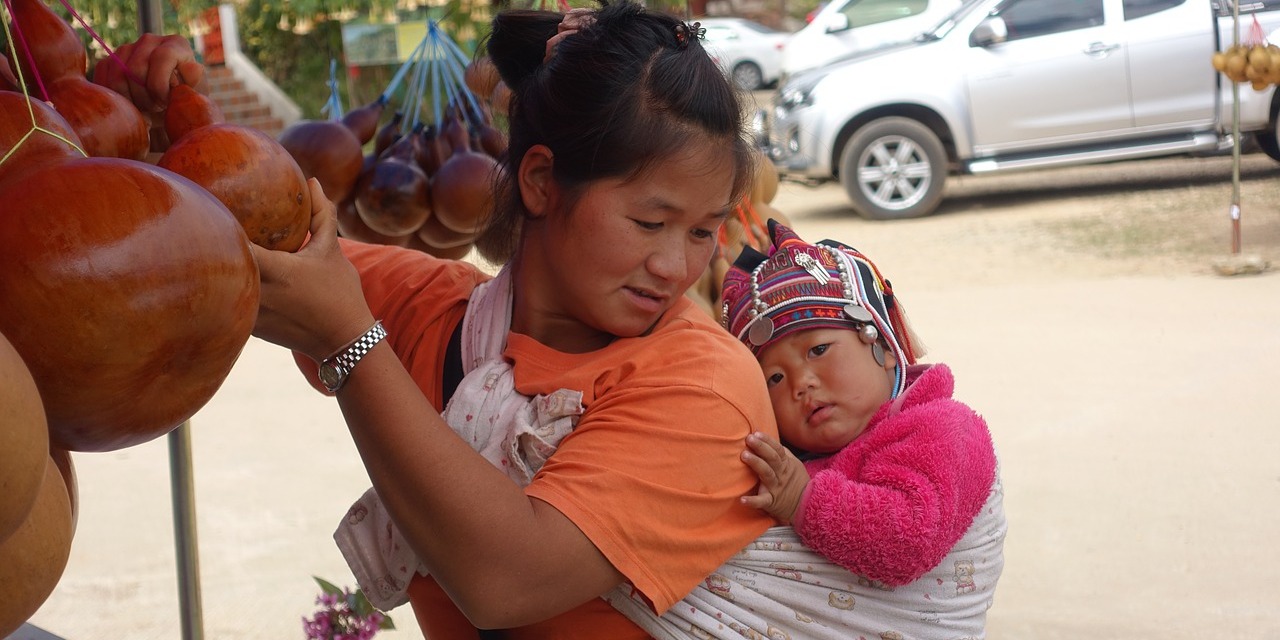 Although the Thai Traditional Midwives practice itself is under threat to disappear from Thai society, preservation of Traditional Midwifery knowledge and practice has been established on governmental educational level.
Today, a number of universities (and some private training centers) provide adequate and thorough Traditional Midwifery courses and studies. Most programs take about 1 year of studies and are in many cases offered as part of a complete 4-year undergraduate study of Traditional Thai Medicine.
Prenatal and postnatal Thai Massage and Postpartum Care and Treatments (Yu Fai) are part of Thai Traditional Midwifery, but the midwifery practice consists of much more elements, such as meaning, scopes and importance of traditional midwifery, care during normal pregnancy and prenatal life of the baby, handling complications during pregnancy, and care of the newborn baby while using both Thai traditional and advanced (contemporary) medicine.
Below you'll find an overview of the institutes and training centers that offer comprehensive Traditional Thai Midwifery training and courses in and around Bangkok.
Chetawan Health Center Salaya
The Chetawan Health Center in Salaya (Bangkok region) is part of the Wat Po medical Massage school and Chetawan group. The center offers long-stay, retreat like Thai Massage on-site therapy training a
[More info...]
Doctor Napa Traditional Thai Medicine
The school offers Thai Pharmacy 2 years, Thai medicine 3 years and a Thai Midwifery program of 1 year. Doctor Napa also offers various Traditional Thai Medicine treatments.
[More info...]
Mahidol University | Siriraj Hospital
The Faculty of Medicine Siriraj Hospital Mahidol University runs a Center of Applied Thai Traditional Medicine (and a 4-year Bachelor program) and is an educational institution in the field of applied
[More info...]
Phatthavee Siam School
The school offers extensive academic training programs for Thai Midwifery, Thai Pharmacy and Thai Massage.
[More info...]
Suan Sunandha Rajabhat University
The university offers a Bachelor, Master, and PhD program in Applied Thai Traditional Medicine.
[More info...]
Sukhothai Thammathirat Open University
The university offers a Bachelor and Master program of Thai Traditional Medicine or Applied Traditional Thai Medicine. Programs are part of the Faculty of health Sciences.
[More info...]
Thai Massage & Spa Academy
The Thai massage school and TARALA spa in Bangkok offer a wealth of both Thai and Western bodywork and massage training course modalities.
[More info...]
Thammasat University
The Thammasat University offer about 240 courses of study in the disciplines of social sciences, humanities, science & technology and health sciences. We've also added the website of the Chu
[More info...]
The Association of Ayurvedic Medicine of Thailand
The Ayurvedic Association of Thailand was established in 1952 and is one of the earliest associations in Thailand to preserve and transfer the art and science of traditional Thai medicine. The associa
[More info...]
Wat Po Thai Traditional Medical and Massage School
The Watpo Thai Massage School in Bangkok, the name also spelled as Wat Pho or Wat Po, is without any doubt the most famous Thai Traditional Medicine institute in the world. The school is closely conne
[More info...]
---
---
Related Topics