---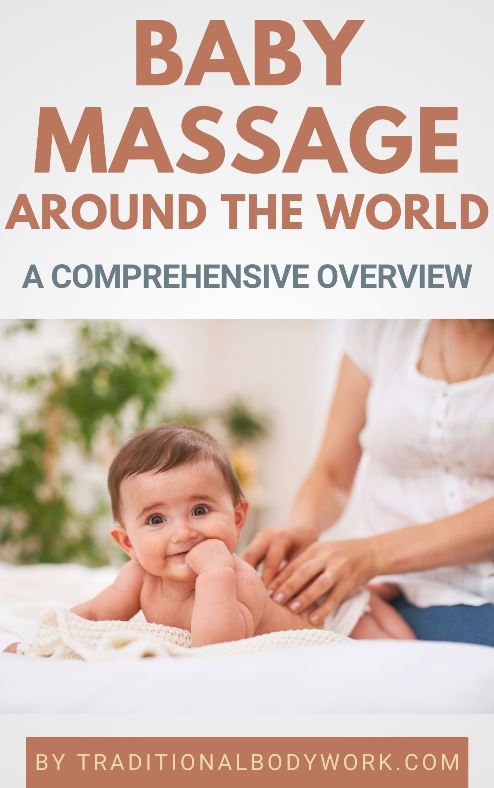 First published: January 2022
Last update: January 2022
Length: 111 pages
Book content: more details
Table of contents: preview here
Readability: device support
Formats: pdf, epub, mobi
Delivery: download and email
Suggested price: US$ 7
Minimum price: US$ 4
We're a small team of just two persons and we work hard to keep our rightful place alongside webgiants such as Amazon, Google, Healthline, and WebMD. If you appreciate our work and have the means to do so, please consider paying the Suggested Price. Thank you in advance for your support.
What is this Book about?
With this book we offer you a unique overview of baby and infant massages around the world.
After the introduction to the book, we first discuss the general characteristics and practices around Baby Massage.
In the following section, we describe the best known Baby Massage treatment modalities, covering a range of treatments that are applied in Asia, Africa, Oceania, the Pacific, and in the West.
Then, in the fourth section of the book, we talk about a range of popular Baby Massage oils and butters, their use, properties, and their benefits. And finally, in our Supplement, you'll find a couple of extra articles on related topics.
This book is not a training course and doesn't contain instructions of techniques, but aims at providing you with a thorough understanding of the topic presented.
Table of Contents
Open Preview
PREFACE
INTRODUCTION
~ The Power of Touch 7
~ Newborn, Baby, Infant, or Toddler? 8
BABY MASSAGE
~ A Brief History of Baby Massage 10
~ Baby Massage Characteristics and Benefits 11
~ Baby Massage | When to Start and How Often? 14
~ Baby Massage for Abdominal Health 16
~ Pediatric Massage 18
~ Full Body versus Partial Body Massage 19
~ Baby Massage and Oils 21
~ Baby Massage Tools and Techniques 24
~ Baby Massage Precautions and Contraindications 28
~ Learning Baby Massage 31
BABY MASSAGE TREATMENT MODALITIES
~ Ancient Greek and Roman Baby Massage 34
~ Baby Reflexology Massage 36
~ Baby Yoga Exercises and Stretches 38
~ Bima Traditional Baby Massage 39
~ Butterfly Touch Massage 40
~ Chinese Xiao Er Tuina Massage 42
~ Craniosacral Massage Therapy for Babies 43
~ Hawaiian Infant Massage | Keiki Lomi Lomi 44
~ IAIM Infant Massage 46
~ Indian Ayurvedic Baby Massage 47
~ Indonesian Baby Massage 49
~ Japanese Baby Massage | Warabe-Uta 51
~ Kangaroo Care 53
~ Korean Baby Massage 54
~ Malay Infant Massage 55
~ Maori Baby Massage 57
~ Moroccan Baby Massage 58
~ Navjat Shishu Abhyanga 59
~ Nepali Mustard Oil Baby Massage 60
~ Nepali Newari Baby Massage 62
~ Nigerian Baby Massage 63
~ Philippine Baby Hilot Massage 64
~ Prenatal Baby Massage 65
~ Preterm Newborn Massage 66
~ Russian Baby Massage 69
~ Russian Dynamic Baby Gymnastics 70
~ Senegalese Baby Massage 71
~ Shantala Baby Massage 72
~ Shiatsu Baby Massage 73
~ Thai Baby Massage 74
POPULAR BABY MASSAGE OILS AND BUTTERS
~ Almond Oil 76
~ Argan Oil 77
~ Ashwagandha Bala Oil 78
~ Castor Oil 79
~ Coconut Oil 81
~ Eucalyptus Oil 82
~ Ghee Butter 83
~ Jojoba Oil 84
~ Mustard Oil 85
~ Safflower Oil 86
~ Sesame Oil 87
~ Shea Butter 88
~ Sunflower Oil 89
SUPPLEMENT
~ Abdominal Massage and Herbal Medicine 91
~ Acupressure Massages 93
~ Ayurveda Tridosha Theory 95
~ Herbal Compress Massage 98
~ Massage and the Navel Area 100
~ Massage and Vital Life Energy 103
~ Oil Massage and Aromatherapy 105
~ Postnatal Massages 107
~ Risk of Using Herbs and Oils 109
APPENDIX
How Do You Receive this eBook?
We work with Gumroad, a reputable and established digital downloads service provider and payment processor. After buying this book you can immediately download it in one or all formats of your choice (pdf, epub, mobi). We will also send you an email with a link to the downloads so that you can re-download the book anytime you'd like to.
Device Support
Our books and videos can be viewed on all common devices, such as desktops, laptops, notebooks, Smartphones, and tablets. Our eBooks can also be read with eReaders, including the Kindle eReader. Our videos can be played in any appropriate viewer or streamed with our online viewer. All regular OS are supported, such as MS Windows, Apple Mac OS, and Google Android.

PDF files are best read on desktop computers, laptops, notebooks, and tablets, but can be easily read on other devices also. EPUB files are suitable for all generic eReaders. The MOBI file format is supported by many eReaders also, but it's specifically suitable for the Kindle eReader.

Smartphones and tablets can access all file formats we publish, but depending on the screen size and apps available or downloaded, either PDF, EPUB or MOBI will be best. MP4 video formats are widely supported by computers and Smartphones, and by many other devices.

After buying a product you can immediately download all formats, or view the product(s) online. If you use a Kindle, you can directly send PDF and MOBI files to your Kindle device using your Kindle email address.