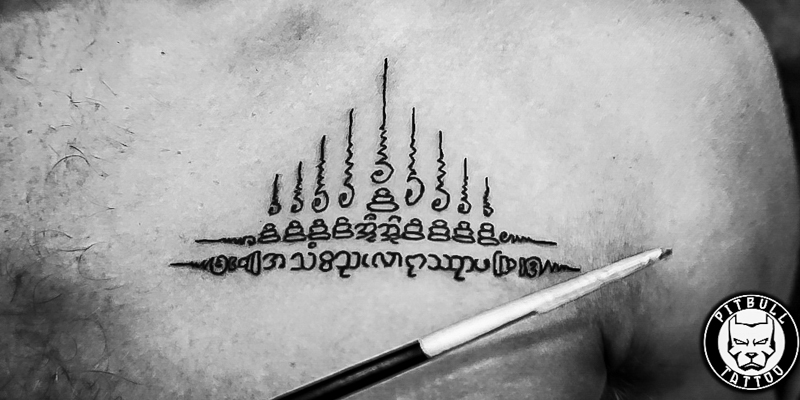 © Image from Pitbull Tattoo Thailand
Traditional Thai Tattoos, known in Thailand as Sak Yant, have become increasingly popular over the past few years. The origin of traditional tattoos in Thailand is closely connected to religion and superstition, and until today they are considered sacred, usually done in a temple, and are supposed to have magical proprieties such as protection and bringing good luck.
Nowadays, you can find thousands of tattoo studios in Thailand to get a hand poked tattoo (with a bamboo stick or – more common nowadays – with a metal rod) or a tattoo machine with traditional Thai designs. The sacred aspect is not found there, of course, but still some monks in temples and Ajarns (masters) are known to continue the traditional, sacred practice. Sak Yants even came on the news in 2016 because Angelina Jolie got several done on her back, which helped increase its popularity in the West, no doubt. Cara Delevingne and Michelle Rodriguez, other famous Hollywood actresses, also had them done.
However, if you want to learn the traditional hand poked techniques, there aren't so many options of Tattoo Schools in Thailand – at least, those that offer courses for foreigners in English. We found the following schools that offer tattoo training in Thailand:
Tattoo School Thailand
Tattoo School Thailand is definitely the best known Tattoo School in the country. Located in Bangkok, it was inaugurated in 2007 and it offers beginner courses, with a duration of two weeks minimal – although for more comprehensive study they suggest 3 to 6 weeks as the better option. They also offer the Bamboo course, where you can learn the traditional hand poking techniques from a Sak Yant master, and an option for returning students or other tattoo artists with experience to have a "Tattoo Holiday" in their studio to practice and continue working on their skills.
Apex Art
Apex Art is a Tattoo Studio and School in Bangkok that offers a variety of training courses for the aspiring tattoo artist. The options are the Traditional Bamboo Tattoo Course, the Intensive Pure Drawing Course, and the Basic, Professional and Advanced courses with a Tattoo machine, that can last from 12 days to 60 days. They also offer a "combo" option to learn the traditional hand poking and machine tattoo techniques in their "Master" courses, with a duration of 90 days (8 hrs a day).
Dark Demon Ink Tattoo School
Dark Demon Ink is a Tattoo School in Bangkok and it offers 3 types of courses: the Basics Tattoo Course, the Professional Tattoo Course and the Thai Bamboo Tattoo Course (Sak Yant style). The classes are one-on-one and the learning style is flexible according to your needs. In your course there will be an English interpreter available, and 1-month accommodation and airport pick up is included in the course fee. You will need to make a deposit of 50% of the total course fee to guarantee your spot, as they are limited (10 per month). At the end of each course, upon successful completion and passing of the final test, you'll get an internationally recognized certificate.
Bamboo Tattoo School
Bamboo Tattoo School is in Pran Buri (about 30 km from Hua Hin). They basically offer 4 courses, "Free Structure (Machine Tattoo)" – beginner and advanced, and "Free Structure (Bamboo Tattoo)", also with a beginner and advanced option. All options are extensive 60 hour courses (2 weeks, 6 hours per day) and they offer food and accommodation options. The tuition includes willing models for you to practice on, a tattoo techniques textbook and a Certificate of Completion upon course graduation. Plus, it includes other extra activities as well, such as local excursion trips, trekking and Yoga.
Leo Masters Tattoos
Leo Masters Tattoos is located in Hua Hin, Thailand. It offers an extensive 4 week tattoo training course, including artistic training. The course is with electromagnetic coil tattoo machines and rotary tattoo machines – so there is no traditional bamboo hand poking tattoo course offered at this school. The course duration is flexible and can be split and adapted according to your need. Accommodation is included in the price, but the cost of the equipment you choose is not included, it will be added to your tuition price (the school sells tattoo machines and equipment).
---

---
---
Related Articles