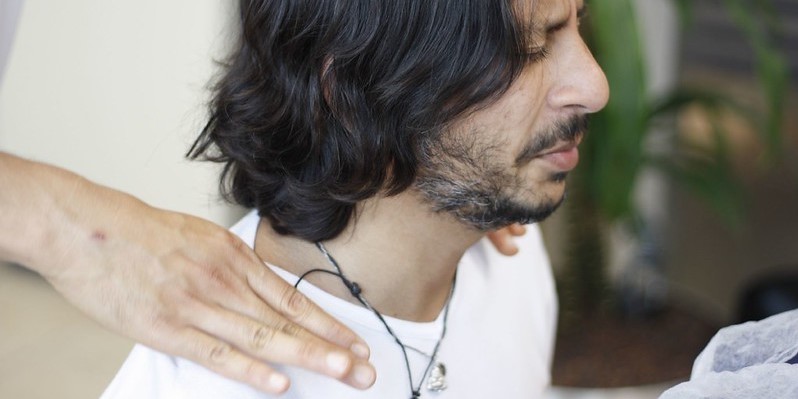 © Image from Sportsandsocial
Head, Neck, and Shoulders massages obviously cover the head, neck, and shoulders — just as the name says. It makes sense to offer this type of massage because those body parts suffer a lot from tension, especially today in modern life where work stress and prolonged sitting positions with strenuous activity for the eyes, head, neck, and shoulders have become rather common.
It's typically a massage meant for relaxation purposes and to stimulate feelings of overall well-being. Sessions can be given with the receiver sitting on an ordinary chair, on a special mobile massage chair — as used in Chair Massage for office workers — in a comfortable couch chair, or sitting on the floor.

Our eBook
Head, Neck, and Shoulders massage sessions are typically done without oils and balms (although they may be applied) and are usually of short duration, that is, they rarely take longer than about thirty minutes.
Although Head, Neck, and Shoulders massages are given as a Partial Body Massage, mind that they are always an integral part of Full Body Massage treatments, such as, for instance, a Swedish Massage, Thai Massage or Lomi Lomi Massage. An actual distinct or historically grown "Head, Neck, and Shoulder Massage" modality doesn't exist.
When there's much focus on working the head, these types of massages are sometimes offered as a Head Massage. Nevertheless, even the widely known Indian Head Massage, also labeled Champissage, Champi or Shiro Abhyanga (Shiroabhyanga), is not only about massaging the head; it includes the neck and shoulders (and sometimes also the arms), applied also in therapeutic conditions, such as frozen shoulder, insomnia, chronic tiredness, spondylosis, whiplash, and migraines, among other discomforts or illnesses.
---
---
Related Articles