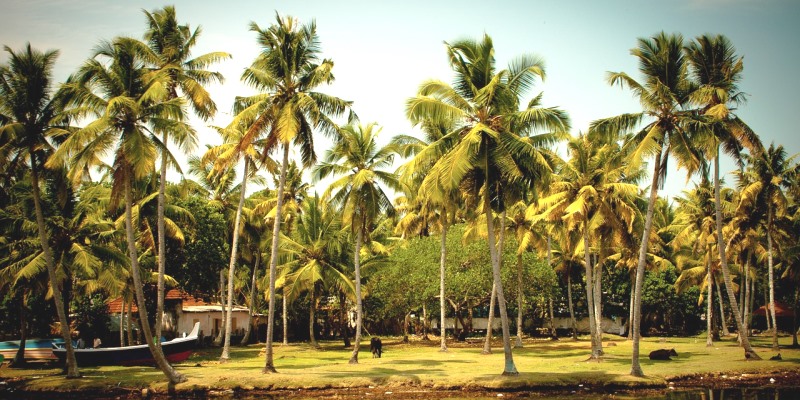 Ayurveda is an ancient system of traditional medicine developed in India as early as the year 6,000 BCE. The word Ayurveda comes from the Sanskrit terms ayur (life) and veda (knowledge).

Our eBook
This traditional knowledge is still very much present today throughout India, and you can find hundreds (if not thousands) of Ayurveda Hospitals and Treatment Centres widespread around the country. From all these, quite some also offer training courses as well.
There is no better place to study Ayurveda than in Kerala, a state in the South-West of India that has a strong tradition of Ayurveda. It is a popular tourist destination in India that attracts many visitors each year, be it for an Ayurveda retreat, a training course, or to just enjoy the nature and beaches.
Kerala is in fact known as "the Land of Ayurveda", being for centuries a region where Ayurveda was the main healthcare system, as practiced by the Vaidyas (traditional practitioners of Ayurveda), and an integral part of everyday life.
Thiruvananthapuram, mainly known by foreigners by its former name Trivandrum, is the capital of Kerala and its most populous city. Below we list the top ten best known Ayurveda training centers in Trivandrum:
Hindusthan Ayurveda Health Care
Hindusthan Ayurveda Health Care is an Ayurvedic Hospital that focuses on Traditional Panchakarma therapy treatments. Moreover, they offer some options of Ayurveda training courses such as the 30 days Ayurveda Training Course, the 5 days Ayurveda Herbal Beauty Therapy Course and the 5 days Ayurveda Nutrition & Cooking Course, to name a few.
Saatwika Ayurveda
Saatwika Ayurveda is an Ayurvedic Hospital and Academy that offers several options of Ayurveda training courses, such as One Day Orientation Programme in Ayurveda; Ayurveda Massage and Treatment Course; Ayurvedic Diet, Herbology and Cooking Course; Ayurvedic Pharmacology and Medicinal Plants Course, and more.
Ayurveda Healing Ashram
Ayurveda Healing Ashram offers several Ayurveda treatments as well as an Ayurveda and Yoga Therapy Course and a Yoga teacher training course.
Somatheeram Ayurveda Village
Somatheeram Ayurveda Village is a research institute and Ayurveda Hospital that offers a range of treatments as well as yoga and meditation classes and retreats. They also offer Ayurveda training courses, such as Certificate Course On Ayurveda Basic Massage (10 Days), Ayurvedic Massage & Panchakarma Therapy (14 Days), Marma Massage (10 days), among many others.
Dr. Franklin's Panchakarma Institute and Research Centre
Dr. Franklin's is a Panchakarma Institute and Research Centre located in Kerala, India. The Institute offers three options of training courses: Fundamental Principles and Practice of Ayurveda, Ayurveda Massage Course and Yoga Teacher Training Courses.
Rishikul Ayurshala
Rishikul Ayurshala offers training courses and treatments in Ayurveda and Yoga. Some of the Ayurveda training courses offered are the Basic Awareness on Ayurveda; Ayurvedic Massage; Ayurveda Cooking Course; Kalaripayattu Training (Inidian Martial Art), among others.
Santhi Yoga
Santhi Yoga offers Ayurveda Training Courses of 10 or 20 days, where you'll learn the principles of Ayurveda, how to identify body types following the Ayurvedic Methods as well as different modalities of Ayurvedic Massages; and an Ayurveda Nutrition & Cooking Course with a duration of 7 days.
Lekshmi Yoga School
Lekshmi Yoga School offers Ayurveda Panchakarma treatment programs and other wellness/beauty programs and treatments. They also offer Yoga teacher training courses and Ayurveda Panchakarma Training Courses, the latter with a duration of 7 or 14 days.
Kerala Ayurvedic Health Care
Kerala Ayurvedic Health Care organizes Ayurveda training courses based on the Ashtavaidhya Tradition. Some of the courses offered are the Ayurveda Panchakarma Training Course, the Ayurveda Nutrition and Cooking Course and the Ayurvedic Beauty Care Training Course.
Dr. Chandran's Ayurveda Hospital & Research Center
Dr. Chandran's Ayurveda Hospital & Research Center has been running for almost 50 years and provides extensive Ayurveda treatments. Apart from that, they also offer a range of Ayurveda training courses, such as Panchakarma Therapy Course, Ayurveda Massage Course, Nadi Pariksha (Pulse Diagnosis) Course, Marma Therapy Course, among others.
---
---
Related Articles