---

Tap or click for Table of Contents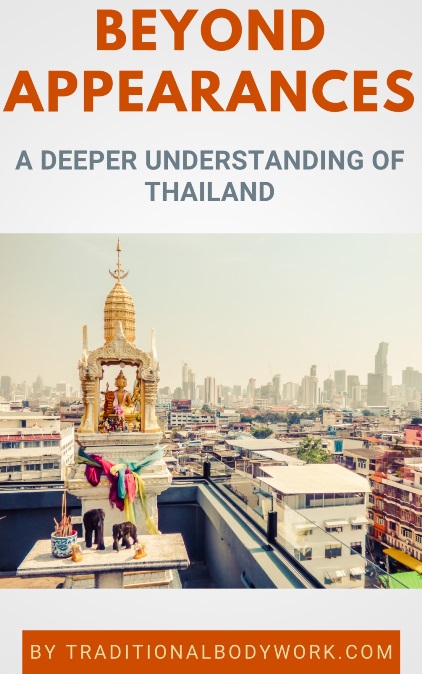 First published: April 2019
Last update: May 2020
Length: 109 pages
Book content: more details
Table of contents: preview here
Readability: device support
Formats: pdf, epub, mobi
Delivery: download and email
Suggested price: US$ 5
Minimum price: US$ 3
If you want to buy several products at once, you can also use our
shopping cart
.
What is this Book about?
This work contains an account of experiences and insights that cover a decade of traveling, living, and working in Thailand. The book aims at sharing with you a deeper understanding of this immensely captivating country.
You will learn more about both contemporary Thailand and its history, about some of the traditional Thai Arts, such as Thai Dance, Muay Thai and Sacred Tattoos, living and working in Thailand, but also about tourist scams, the concept of "losing face," police bribes, foreigner crackdowns, the powerful Royal Family, and much more.
All in all, an interesting pastime while on the road, and an eye-opener for those wanting to know more of what really goes on behind the scenes in the Land of Smiles.
Table of Contents
PREFACE
CONTENTS
~ Thailand Beyond Appearances 7
~ The Thai Smile 8
~ Chiang Mai – Smoggy, Stuffy, Smoky 10
~ Sak Yant – The Blessed Tattoos of Thailand 12
~ Crackdowns against Foreigners 15
~ Dot Po, the Thai Druid 17
~ Bangkok's Flooding 20
~ Only Metta Works 22
~ Thailand Wants 10,000 Extra Foreign English Teachers 24
~ The Spirit Houses of Thailand 26
~ The Fast Lane 29
~ Losing Face and How to Save It 31
~ Same Same, but Different 34
~ Thai Paper Umbrella Making 36
~ Happy Ending Massage in Thailand 38
~ The Rishi Hermits from Thailand 40
~ Bangkok Makes a Hard Man Humble 42
~ Thai Police Bribes – A Necessity 44
~ After the Military Coup 46
~ Sexy Pants 48
~ Muay Thai Boxing – History and Context 50
~ Beliefs and Superstitions around Pregnancy and Childbirth 52
~ Kevin's Case – A Fearytale 55
~ Bangsaenity Beach 59
~ Thai Women and Thai Massage 61
~ Thai Tourist Scams 64
~ Thai Cuisine – Thailand's Delicious Business 68
~ Working in Thailand 71
~ The 7-11 and Pichest Boonthumme 73
~ Teaching English in Thailand is Not for Everyone 76
~ The Beasts 83
~ Christmas in Thailand 85
~ The Power of the Royal Family 87
~ Thai Traditional Dance – Graceful Flow 91
~ Thailand's Deep South Insurgency 94
~ Bangkok Blues 96
~ Sex Work in Thailand 98
~ The Cannabis Paradox 100
~ Leaving Thailand – Land of Smiles and Tears 102
~ Upcoming Elections in Thailand 104
~ The Wai Khru Ceremony 106
APPENDIX
How Do You Receive this eBook?
We work with Gumroad, a reputable and established digital downloads service provider and payment processor. After buying this book you can immediately download it in one or all formats of your choice (pdf, epub, mobi). We will also send you an email with a link to the downloads so that you can re-download the book anytime you'd like to.
Device Support
Our books and videos can be viewed on all common devices, such as desktops, laptops, notebooks, Smartphones, and tablets. Our eBooks can also be read with eReaders, including the Kindle eReader. Our videos can be played in any appropriate viewer or streamed with our online viewer. All regular OS are supported, such as MS Windows, Apple Mac OS, and Google Android.

PDF files are best read on desktop computers, laptops, notebooks, and tablets, but can be easily read on other devices also. EPUB files are suitable for all generic eReaders. The MOBI file format is supported by many eReaders also, but it's specifically suitable for the Kindle eReader.

Smartphones and tablets can access all file formats we publish, but depending on the screen size and apps available or downloaded, either PDF, EPUB or MOBI will be best. MP4 video formats are widely supported by computers and Smartphones, and by many other devices.

After buying a product you can immediately download all formats, or view the product(s) online. If you use a Kindle, you can directly send PDF and MOBI files to your Kindle device using your Kindle email address.