---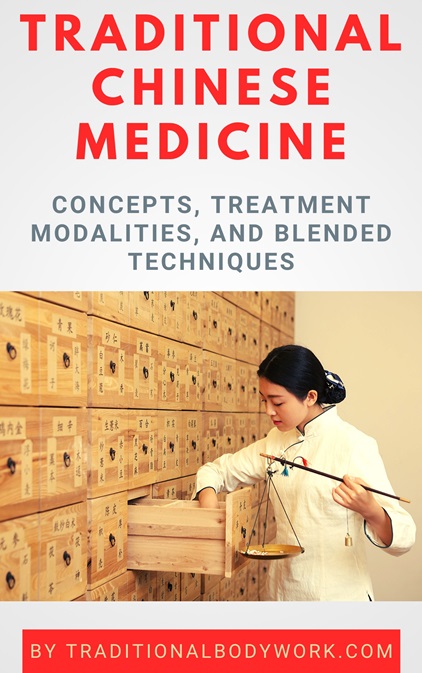 What is this eBook about?
Traditional Chinese Medicine, commonly called TCM after its abbreviation, is without doubt one of the most influential traditional medicine systems in the world.
Its popularity is still growing and recently TCM got an important boost due to its widespread application during the Coronavirus outbreak in China.
In this book we first take a look at the concepts behind TCM, such as the meaning and significance of Yin-Yang, Qi Vital Energy, Taoism, Meridian theory, and the Five Elements, to name a few key items.
Secondly we explore all existing Chinese Medicine treatment modalities: what they are, how and when they're used, their goals and benefits.
And lastly, we discuss recent and related developments, and how TCM modalities have been blended with other healing modalities.
Table of Contents
PREFACE
CONCEPTS
~ Traditional Chinese Medicine (TCM) 7
~ Qi Vital Life Energy (Chi) 12
~ The Yin-Yang Concept 13
~ Five Element Theory 15
~ Meridians (Qi Life Energy Channels) 18
~ The Dantian (Dan Tien) 21
~ The Microcosmic Orbit 23
~ The Three Treasures 24
~ Hot and Cold 26
~ The Approach of Disease in TCM 28
~ Diagnostics in Chinese Medicine 29
~ Holistic View of TCM 30
~ Buddhism and TCM 32
~ Confucian Thought 34
~ Taoist Philosophy and Practice 35
TREATMENT MODALITIES
~ Acupressure 38
~ Acupuncture (Zhen Jiu) 39
~ An Mo Massage 41
~ Chinese Massage Therapies 42
~ Chinese Martial Arts and TCM 44
~ Cupping Therapy (Ba Guan) 45
~ Dian Xue Massage 48
~ Dit Da (Bone-Setting) 49
~ Ear Massage & Reflexology 50
~ Er Zhu (Ear Candling) 51
~ Fangzhongshu (Taoist Sexual Practices) 52
~ Feng Shui 54
~ Foot Massage & Reflexology 55
~ Fu Ke (Female Health and Medicine) 56
~ Gua Sha (Scraping) 57
~ Hand Massage & Reflexology 59
~ Herbal Medicine 60
~ Herbal Teas 62
~ Huo Liao (Fire Therapy) 64
~ Juagen Manhood Massage 65
~ Medical Qigong 67
~ Medicinal Liquors 68
~ Moxibustion 69
~ Neidan Inner Alchemy 70
~ Neigong Practices 71
~ Nutrition & Food Therapies 72
~ Qi Healing and Fa Gong 73
~ Qigong (Chi Kung) 74
~ Sexual Qigong 76
~ Shou Zhen (Medical Palmistry) 77
~ Tai Chi Chuan 78
~ Tao Yin 80
~ Taoist Meditation 81
~ Tui Na Massage (Tuina) 82
~ Xiao Er Tui Na Massage (Pediatrics) 84
~ Zuo Yue Zi (Zuoyuezi or Sitting the Month) 85
BLENDED TECHNIQUES
~ Chi Nei Ching Massage 88
~ Chi Nei Tsang Internal Organs Massage 89
~ Healing Love through Tao 92
~ Japanese Traditional Treatments 93
~ Karsai Nei Tsang Genital Detox Massage 96
~ Neo-Tantra and Taoist Practices 99
~ Tao-Massage 100
~ Taoist Erotic Massage 101
~ TCM and Western Medicine 103
~ Thai Traditional Massage and TCM 105
~ Thai Foot Massage & Chinese Reflexology 107
~ Yin-Yang Massage 108
~ Yin Yoga 110
SUPPLEMENT
~ Mantak Chia and the Universal Healing Tao System 112
~ The Jade Egg 114
~ Asian Traditional Bodywork and Spiritual Practices 116
~ TCM and Treating COVID-19 117
~ Asian Traditional Postpartum Treatments 119
~ Aphrodisiacs 120
APPENDIX
How do you receive this eBook?
We work with Gumroad, a reputable and established digital downloads service provider and payment processor. After buying this eBook you can immediately download it in one or all formats of your choice (pdf, epub, mobi). We will also send you an email with a link to the downloads so that you can re-download the eBook anytime you'd like to.
Device Support
Our eBooks can be read on all common devices, such as desktops, laptops, notebooks, smartphones, tablets, and eReaders, including the Kindle eReader. All regular OS are supported, like, for instance, MS Windows, Apple Mac OS, and Google Android.
PDF files are best read on desktop computers, laptops, notebooks, and tablets, but can be easily read on other devices also. EPUB files are suitable for all generic eReaders. The MOBI file format is supported by many eReaders also, but it's specifically suitable for the Kindle reader.
Smartphones and tablets can access all file formats we publish, but depending on the screen size and apps available or downloaded, either PDF, EPUB or MOBI will be best.
After buying this eBook you can immediately download all formats or, if you use a Kindle, directly send the PDF and MOBI file to your Kindle device using your Kindle email address.