---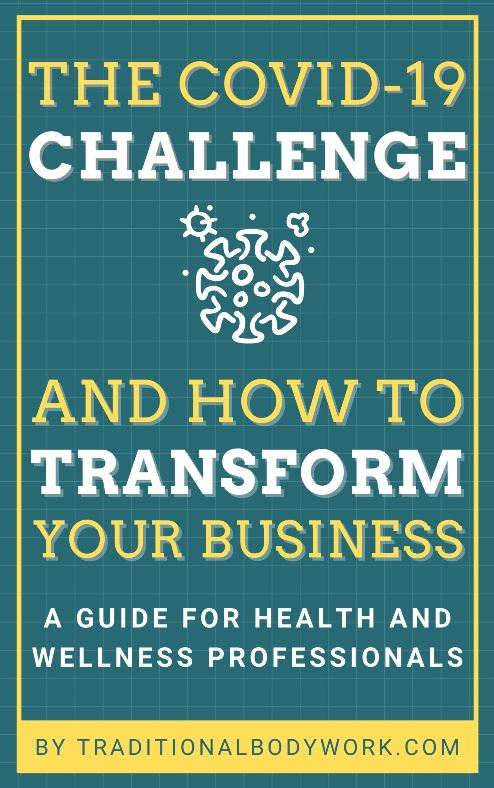 Written by: Marce Ferreira
First published: November 2021
Last updated: December 2021
Length: 111 pages
Book content: more details
Table of contents: preview here
Readability: device support
Formats: pdf, epub, mobi
Delivery: download and email
Minimum price: US$ 0
Suggested price: Pay What You Want
We're a small team of just two persons and we work hard to keep our rightful place alongside webgiants such as Amazon, Google, Healthline, and WebMD. If you appreciate our work and have the means to do so, please consider a donation. Thank you in advance for your support.
What is this Book about?
In this book we discuss the COVID-19 changes, challenges, and business opportunities for health and wellness professionals.
The main focus of the book is to support massage, spa and wellness practitioners and teachers in successfully transforming their businesses into a more resilient, more flexible, and more robust enterprise, one that is better capable of ensuring business and income continuity.
Table of Contents
Open Preview
PREFACE
INTRODUCTION
~ COVID-19: A Global Business Game Changer 7
~ How We Successfully Transformed our Website 11
IMPACT AND CHANGES
~ Social Distancing: Killing the Health and Wellness Industry 15
~ The Spa, Massage, and Bodywork Training Industry 17
~ Increased Client Reliance on Self-Care 21
~ More Need for Care, Less Opportunity to Give It 23
~ The COVID Waves of Deception 25
~ Supply Chain Disruptions: People and Materials 27
~ Recurrent Adaptions to New Safety Requirements 29
~ Traveling Therapists and Teachers 30
~ People's Reflections and the Search for Meaning 33
OPPORTUNITIES AND BUSINESS TRANSFORMATION
~ Awareness, Acceptance, and Action 36
~ Should you Stop your Business? 37
~ No Worries: The Health & Wellness Sector is Still Alive 39
~ Adaptation and Transformation: What is the Difference? 41
~ Business Diversification: Managing Financial Risks 43
~ The Question of Costs and Investment 45
~ New Business Opportunities due to COVID-19 46
~ Using your Existing Client Base 48
~ Multi-Channel Business Strategies 49
~ From Care to Self-Care Services 52
~ From Indoor to Outdoor Activities 54
~ From Walk-in to Scheduling Appointments Online 55
~ From Full-time to Part-time Work 56
~ From Therapist to Coach and Counselor 58
~ From Group to Private Training Options 60
~ Pros and Cons of Online Services 62
~ The Move to Online Massage and Bodywork Training 64
~ Is Online Massage Training Feasible? 66
~ What Online Activities to Focus On? 69
~ Joining Online Affiliate Programs 70
~ Creating and Publishing eBooks 72
~ Creating and Publishing Videos 74
~ Online Subscription and Membership Services 76
~ Localizing versus Globalizing your Business 77
~ Lowering your Operational Costs 79
~ The Truth about Building a Successful Online Business 81
SOME OF OUR PERSONAL EXPERIENCES
~ COVID-19, BCE, and CE 84
~ Our Life under Lockdown 86
~ How We Stay Fit during Lockdown 89
~ The Rise of Online Reusi Dat Ton Training 92
~ How COVID-19 Infected our Website 94
SUPPLEMENT
~ People and Touch Starvation 98
~ COVID-19, our Immune System, and Bodywork 100
~ COVID-19 and Traditional Chinese Medicine 103
~ Platforms for Online Video Conferencing 106
~ Platforms to Create and Sell Online Education 107
GLOSSARY OF TERMS
APPENDIX
How Do You Receive this eBook?
We work with Gumroad, a reputable and established digital downloads service provider and payment processor. After buying this book you can immediately download it in one or all formats of your choice (pdf, epub, mobi). We will also send you an email with a link to the downloads so that you can re-download the book anytime you'd like to.
Device Support
Our books and videos can be viewed on all common devices, such as desktops, laptops, notebooks, Smartphones, and tablets. Our eBooks can also be read with eReaders, including the Kindle eReader. Our videos can be played in any appropriate viewer or streamed with our online viewer. All regular OS are supported, such as MS Windows, Apple Mac OS, and Google Android.

PDF files are best read on desktop computers, laptops, notebooks, and tablets, but can be easily read on other devices also. EPUB files are suitable for all generic eReaders. The MOBI file format is supported by many eReaders also, but it's specifically suitable for the Kindle eReader.

Smartphones and tablets can access all file formats we publish, but depending on the screen size and apps available or downloaded, either PDF, EPUB or MOBI will be best. MP4 video formats are widely supported by computers and Smartphones, and by many other devices.

After buying a product you can immediately download all formats, or view the product(s) online. If you use a Kindle, you can directly send PDF and MOBI files to your Kindle device using your Kindle email address.