Thai Yoga Statues Stock Images | Wat Pho Photos
Published: Jan 19, 2021 | Updated: Jul 29, 2021
---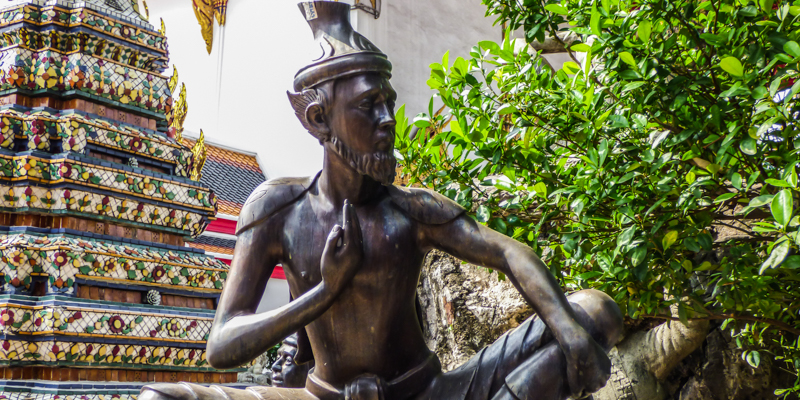 If you need high quality images of the Traditional Thai Yoga statues in the Wat Pho temple garden, you'll find three sets of twenty royalty-free photos in our Picture Packs section (Wat Po Thai Yoga Set 1, Set 2 and Set 3).
The pictures are taken at the Wat Po temple in Bangkok, adjacent to the Grand Palace. We've made a selection of the Thai Yoga (Rue-Si Dat Ton) statues with Yogis — the so-called Reusi Hermits or Lersis — depicted in a variety of self-stretching and self-massage exercise poses. Reusi Datton (or Rue-Si Dat Ton) is officially part of Traditional Thai Medicine practices.
If you work on — for instance — a book, training manual, website or any other project where you would need pictures of the Wat Pho Thai Yoga statues, you'll find a large variety of those in the aforementioned Image Packs.
The pixel size of our photos is ideal for use in presentations, newsletters, on social media, websites, blogs, in articles, and for brochures, books, book covers, magazines, and high quality prints. We can also supply higher resolutions for our pictures who need those.
Our photos are sold royalty free, that is, you pay once and can reuse them forever, and they can be used personally or professionally for editorial, commercial and promotional purposes.
---
---
Related Articles