---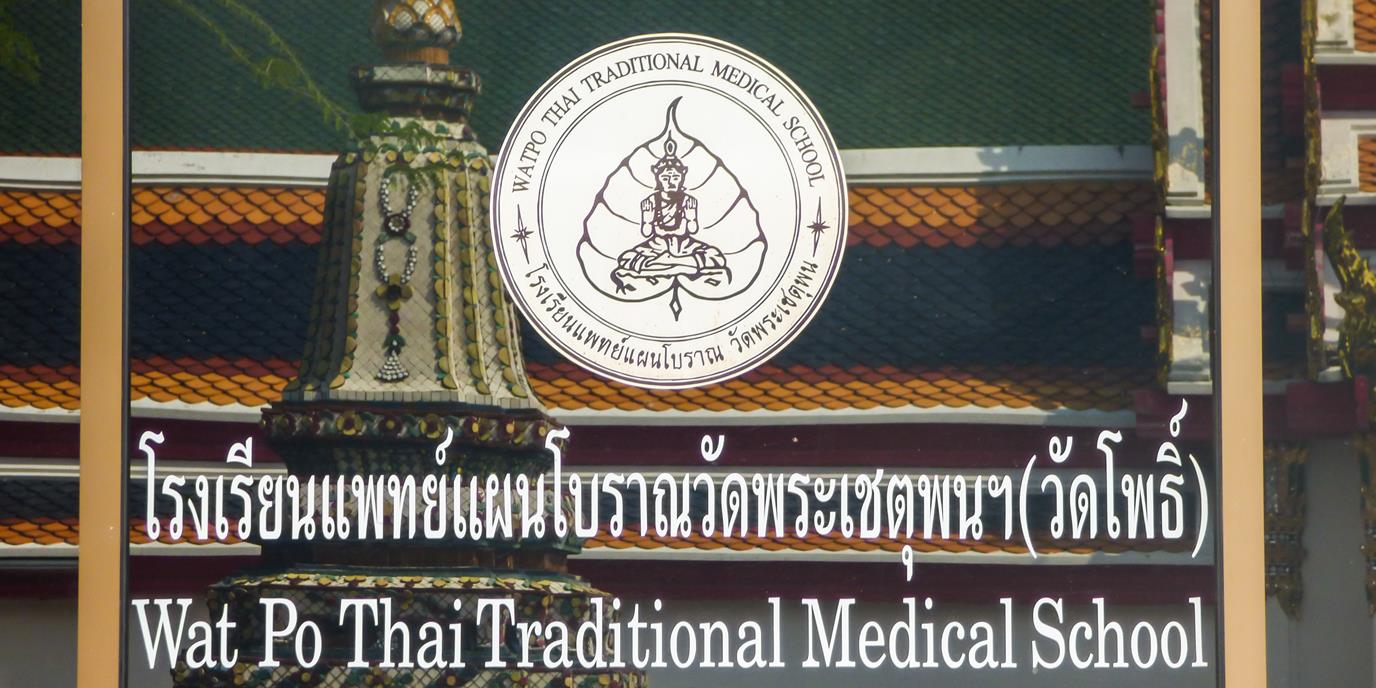 A Escola de Medicina e Massagem Tradicional Tailandesa de Watpo (Watpo Thai Traditional Medical and Massage School), também escrita como Wat Pho, é inquestionavelmente o Instituto de Medicina Tradicional Tailandesa mais famoso do mundo. A escola está intimamente ligada ao templo de Wat Pho, e está localizada no coração da Tailândia, no centro histórico de Bangkok, perto do templo Wat Pho.
Nos jardins do templo de Wat Pho, você encontrará o Centro de Massagem Watpo (Watpo Massage Center), onde o público em geral pode receber várias sessões de massagem (Massagem Tailandesa, Massagem Tailandesa nos pés, Massagem Tailandesa com óleo, massagem facial tailandesa e assim por diante). Além disso, todas as manhãs às 8h há uma aula gratuita de Reusi Dat Ton (Yoga Tailandês) oferecida ao público, com duração de 45 minutos.
Um pouco de história
No início do período Rattanakosin (1782-1932), o rei Rama III ordenou a busca e coleta de todo o conhecimento sobre a ciência da Medicina Tradicional Tailandesa no reino, a fim de serem esculpidos em tábuas de pedras, que ficariam salvaguardadas em torno dos claustros do Templo de Wat Pho. Muitos desses registros descrevem as Linhas de Energia (Sen lines) e os pontos terapêuticos de acupressão tailandeses. Além disso, os jardins do templo são ricamente decorados com estátuas representando posições de Thai Yoga e de Thai Massagem, originárias do século XIX, muitas delas recentemente renovadas ou (se ausentes ou destruídas) recém-adicionadas.
A Escola de Medicina e Massagem Tradicional Tailandesa de Wat Pho foi inaugurada em 1955 dentro do terreno do templo de Wat Pho. É a primeira Escola Médica Tailandesa com aprovação do Ministério da Educação da Tailândia. Hoje, no entanto, a escola não fica mais no templo de Wat Pho (lá ainda estão apenas os serviços de Massagem), mas a alguns quarteirões de distância do terreno do Templo. Além disso, a Watpo Massage School (agora parte do Chetawan Health Group) tem várias filiais e clínicas de massagem em outras áreas de Bangkok e também uma filial em Chiang Mai (norte da Tailândia).
Cursos e Workshops
Atualmente, a Escola de Massagem de Watpo e suas filiais oferecem os seguintes treinamentos, cursos e oficinas (observe que cada filial pode oferecer diferentes modalidades de terapias corporais tailandesas):
General Thai Massage Course – 30 horas
Advanced Medical Thai Massage – 60 horas
Foot Massage Course – 30 horas
Oil Massage and Aromatherapy – 30 horas
Woman Healthcare Massage – 30 horas
Infant and Child Massage Course – 21 horas
Ascetic self-Stretching (Rue-si Datton) Course – 5 horas
Thai Massage Experience Training (duração do curso não disponível)
Spa Body Treatment – 120 horas (3,5 semanas)
Basic Body Treatments – 24 horas
Nail Care and Nail Art – 42 horas
Professional Thai Massage for Health – 165 horas (26 dias)
Professional Thai Massage Therapy I – 200 horas (5 semanas)
Programas de Treinamento
Além dos cursos de curta duração e profissionalizantes mencionados acima, a escola de Wat Po também oferece vários programas de treinamento no estilo resort/retiro, tanto de longa quanto de curta duração, como:
Office Syndrome Management Program
Lower Back Pain Management Program
Mother Health Care Program
Re-Energize Program
Rejuvenate Program
Anti-Cellulite Program
Elderly Health Care Program
Woman Health Care Program
Como é fazer um curso em Wat Pho
Ser a escola de Massagem Tailandesa mais conhecida na Tailândia (e em todo o mundo) não significa necessariamente que a escola ofereça os melhores cursos ou seja o melhor ambiente de aprendizado. Como Wat Pho cresceu muito em popularidade nas ultimas décadas, é impossível não observar o fato de que a escola se tornou uma espécie de "fábrica" de treinamento de massagem.
Eu me lembro bem dos cursos que fiz em Watpo em 2013 – eu tive muitos professores diferentes durante a semana do curso, e o local do curso era uma espécie de enorme salão de fábrica com ar condicionado, onde mais de 150 alunos aprendiam as técnicas de Massagem Tailandesa simultaneamente. A escola inicia cursos básicos de Thai Massagem literalmente todos os dias, o que significa novos alunos constantemente, e um ambiente de aprendizado bastante barulhento e um pouco caótico.
Além disso, o professor que fez a introdução do curso me disse para não fazer muitas perguntas durante os dias de curso (pois eles estavam muito ocupados, me disseram), e que eu teria a chance de fazer perguntas e esclarecer dúvidas após o curso. Na verdade, eu não tive chance nenhuma, pois meus professores (eu tive 6 professores diferentes durante um curso de 4 dias) já estavam, naturalmente, ocupados em ensinar um novo grupo de alunos.
É preciso dizer que os retiros, como o "Professional Thai Massage Therapy I" (Massagem Terapêutica Tailandesa Profissional I) com duração de 200 horas (5 semanas) na filial de Salaya, por exemplo, são estruturados de forma diferente e levam mais tempo para serem concluídos. Sendo assim, eu suponho que seja um ambiente de ensino mais calmo e com mais atenção por parte dos professores e tempo para os alunos tirarem dúvidas.
Talvez as coisas tenham mudado hoje em dia (para melhor ou pior, não posso dizer), mas é algo para se ter em mente ao escolher estudar na escola de Wat Pho. A escola, de muitas maneiras, tornou-se uma espécie de atração imperdível ao visitar Bangkok. Seja por ser o mais importante centro de preservação do conhecimento de Medicina Tradicional Tailandesa, pela enorme estátua do Buda reclinado, pelas lindas (e também enormes) estupas coloridas que contém as cinzas de membros da realeza e outras pessoas importantes do reino, ou pela própria Escola de Massagem.
De qualquer forma, certamente é uma experiência incrível poder aprender Massagem Tailandesa lá, pertinho deste templo tão importante, podendo visitá-lo todos os dias; é uma experiência que não tem preço, poder estar lá no coração Tailândia, no centro de onde tudo começou.