---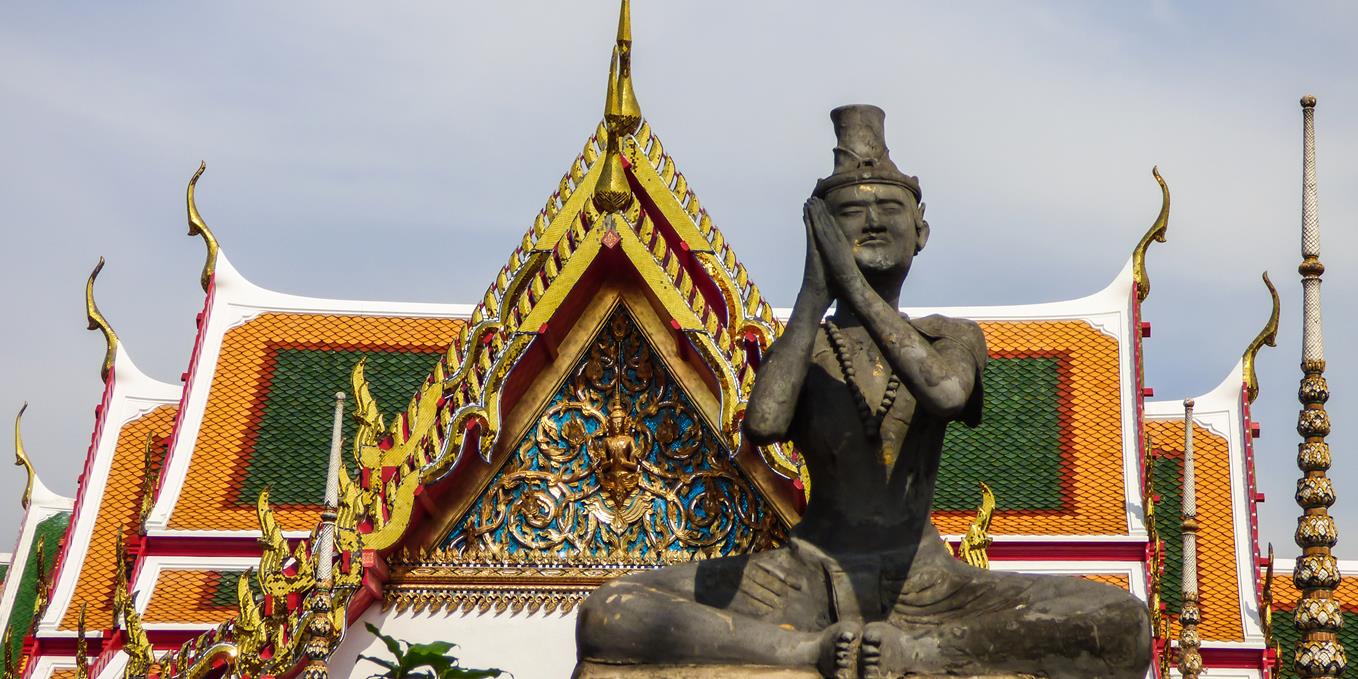 Vergeleken met Chiang Mai, de beroemde Thai Massage stad gelegen in het noorden van Thailand, telt Bangkok een aanzienlijk kleiner aantal Thaise Massage scholen en opleidingen en minder diversiteit in het aanbod.
Uiteraard is Bangkok de Muay Thai hoofdstad (Muay Thai=Thai boksen) van Thailand (en van de wereld), dus dat herstelt enigermate het evenwicht tussen deze twee belangrijke steden van Thailand.
Nochtans bevindt zich in Bangkok de beroemdste Thaise Massage school ter wereld, de Watpo Traditionele Thaise Massage School (Watpo and Chetawan Traditional medical and massage school) die samen met de al even beroemde Wat Pho tempel beschouwd wordt als het centrum en de bewaker van kennis van de Traditionele Thaise Geneeskunde.
De Watpo Massage school (ook gespeld als Wat Po of Wat Pho) is een conglomeraat van Thai traditionele medische scholen en klinieken (Chetawan Groep) en heeft verschillende vestigingen in en rondom Bangkok en een vestiging in Chiang Mai.
De school heeft historisch gezien – en tot op de dag van vandaag – een nauwe relatie met de Wat Pho tempel. In de tempeltuin van Wat Pho kun je ook het Wat Pho Massage centrum vinden, waar je verschillende Thaise bodywork behandelingen kunt krijgen. Een leuke, extra service van het centrum zijn de dagelijkse gratis lessen Reusi Datton (Thai Yoga, Ascetische Zelf-Stretching) in de ochtend die rond 08:00 uur beginnen.
De Wat Pho tempel is behalve beroemd om haar prachtige tempelgebouwen, de vele stupas en de liggende Boeddha (Reclining Buddha) ook de plek met de al even beroemde Thaise Massage en Thai Yoga sculpturen en de "stenen tabletten" of "tafelen" met de inscripties van de Thai Sen Energie kanalen en acupressuur punten voor therapeutische Thaise Massage behandelingen.
Behalve de Watpo Massage school zijn er nog enkele ander bekende Thaise Massage opleidingen te vinden in Bangkok, zoals de Thai Massage & Spa Academy, the TTC Spa School (met tevens een vestiging in Chiang Mai), de Chiva-Som International Academy, en de Bangkok Spa Academy (BSA).
In het Kao San Road gebied (het beroemde of het wellicht beruchte gebied voor backpackers in Bangkok) zijn er enkele kleinere Thai Massage scholen en ook spas te vinden die training geven.
Andere instituten die Thaise Massage cursussen geven zijn verschillende universiteiten in en rondom Bangkok, waar overigens ook universitaire Bachelor en Masters programma's aangeboden worden in de Thaise Traditionele Geneeskunde (Thai Traditional Medicine).
Overigens zijn er ook nogal wat beroepsopleidingen in de Thaise Massage (en haar afgeleiden, zoals de Thaise Voetmassage, Thaise Oliemassage, Tok Sen, en dergelijke) maar deze (en ook de universiteiten) zijn in principe alleen maar toegankelijk voor de Thai, simpelweg doordat de opleidingen in de Thaise taal worden gegeven of omdat ze soms enkel Thai burgers toelaten.
Een bekende individuele Thaise Massage leraar die je niet mag missen, is de blinde leraar en therapeut Meester Yong Kiat, die een discipel is van de overleden Ajahn Pisit Benjamongkonwaree van de beroemde Pisit Massage School. Yong Kiat onderwijst nu in zijn eigen Bangkok Thai Massage center.
Als je echt geïnteresseerd bent in een serieuze Thai Yoga (Reusi Dat Ton) opleiding, Thaise Yoga Massage of Thaise Voetmassage & Reflexologie cursus dan moet je zonder twijfel Master Kong van de Yoga Massage School Thailand Metta opzoeken.
Uiteraard, Thaise Massage leren in Bangkok is nogal anders dan studeren in Chiang Mai. Bangkok telt 8 miljoen inwoners en Chiang Mai nog geen 150.000 zielen. Dat is een heel groot verschil en als vanzelf maakt dat de leeromgeving geheel anders.
Maar er zijn meer verschillen: het klimaat, het eten, de mensen. En als je van de stranden houdt dan ben je eigenlijk beter af in Bangkok van waaruit je de dichtstbijzijnde stranden in ongeveer 2 uur kunt bereiken (Bang Saen, Chonburi) of een beetje verder weg in zo'n 4 uur (Hua Hin). Bedenk dat Chiang Mai ruim 700 kilometer noordelijk van Bangkok ligt en voor het dichtstbijzijnde strand zul je richting het zuiden via Bangkok moeten afreizen.
Nochtans is dit artikel er niet voor om een keus te moeten maken tussen Thaise Massage studeren in Bangkok of Chiang Mai. Vanzelfsprekend is het wel een vraag die boven komt drijven als je in Thailand de Thaise Massage wilt leren, maar zowel Bangkok als Chiang Mai hebben beiden hun charme en beiden hebben heel veel te bieden.
In dit artikel gaven we slechts voorbeelden van enkele bekende Thaise Massage scholen in Bangkok, maar in onze database op TraditionalBodywork.com kunt u een overzicht vinden van meer dan 70 Thaise Massage opleidingen in Bangkok.