---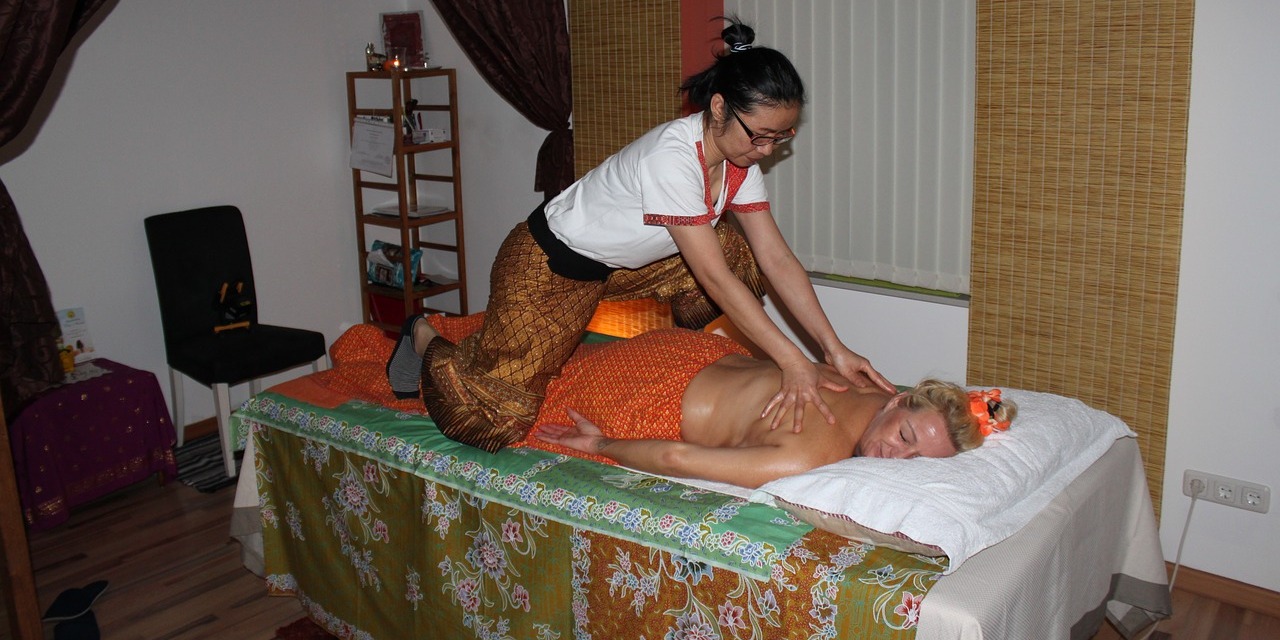 Het massage aanbod in Nederland is tegenwoordig overweldigend. De laatste statistieken tonen aan dat het Thaise massage aanbod in de laatste 4 jaar verdubbeld is tot ongeveer 600 officiële Thaise massage salons en praktijken.
Deze snelle groei is overigens niet alleen een Nederlands verschijnsel. In de gehele Westerse wereld heeft in de afgelopen 15 jaar het massage aanbod in het algemeen en de Thaise en Chinese Massage in het bijzonder een enorme opgang gemaakt.
Massages zijn enerzijds veel goedkoper geworden, de concurrentie is groter en 'het doen' van Wellness, Resorts, Retreats en Relaxation is in toenemende mate een soort vanzelfsprekende snack geworden. Een beetje snackbar, Mac Donald's like, zeg maar.
Door de wildgroei in de afgelopen jaren is het wel lastiger geworden de kwaliteit te borgen en wordt er helaas ook wel eens behoorlijk 'aangerommeld'. Regelgeving en bescherming van de consument met betrekking tot massages en wellness zijn in Nederland nog niet optimaal geborgd en het blijft vooralsnog relatief lastig een geïnformeerde keus voor een aanbieder te maken.
In ieder geval, na dat allemaal gezegd te hebben, in dit artikel hebben we een aantal websites en portals verzameld die informatie en overzichten geven over waar in Nederland je Thai Massage salons, behandelaars, praktijken en spas bij jou in de buurt kunt vinden.
Het gaat in de onderstaande lijst niet om het vinden van luxe Wellnessresorts, Spas en Retreats, maar om websites voor het kunnen opzoeken van het locale massageaanbod bij jou in de omgeving.
De lijst in alfabetische volgorde:
Boek een Massage
Website: http://www.boekeenmassage.nl/
Boek een Massage biedt een keus van verschillende massage modaliteiten, waaronder ook de Thaise Massage. Je kunt er op modaliteit en stad zoeken.
Marktplaats.nl
Website: https://www.marktplaats.nl
Uiteraard is er Marktplaats.nl, alhoewel het aanbod van Thaise Massage praktijken nogal klein is.
Massage.nl
Website: https://www.massage.nl/
Massage.nl heeft een lijst met een beperkt aantal Thaise Massage aanbieders. Ze profileren zich als aanbieder van Thaise Yogamassage beoefenaars. Ook zijn er een aantal Thaise Massage opleiders te vinden.
Massage-Gezocht
Website: https://www.massage-gezocht.com
Biedt een grote selectie van salons en adressen aan van zowel erotische Thaise Massage als niet-erotische massages door geheel Nederland. Ook voor thuisbezoeken kun je er terecht.
Massage-Maps.com
Website: https://www.massage-maps.com
Massage Maps biedt een overzicht aan van Thaise en Chinese Massagesalons, in kaart gebracht per provincie en stad. Er zijn meer dan 300 Chinese en meer dan 500 Thaise Massagesalons op te zoeken.
Massagesalon.nl
Website: http://www.massagesalon.nl/
De website adverteert met 'Alle massagesalons van Nederland!' Nochtans is het aanbod van Thaise Massage salons nogal beperkt.
Speurders.nl
Website: https://www.speurders.nl
Bekende website voor van alles en nog wat en tevens bevolkt met Thai Massage aanbieders.
Thaise Massage
Website: https://thaisemassage.chinese-massage.net/
Thaise Massage biedt een overzicht per stad of provincie aan. Behalve een ruim aanbod aan salons, spas en dergelijke vind je er ook scholen en leraren voor Thaise Massage opleidingen en cursussen. Je kunt er gemakkelijk op sleutelwoorden zoeken zoals bijvoorbeeld Amsterdam, Rotterdam, Opleidingen, Cursussen, enzovoorts.
Thaise Massage Startpagina
Website: https://thaise-massage.startpagina.nl/
Een redelijk ruime keus aan Thaise Massage salon en informatie met betrekking tot Thailand.
Treatwell
Website: https://www.treatwell.nl
Treatwell geeft de mogelijkheid tot het opzoeken van een scala aan massage aanbieders, waaronder ook de Thaise Massage. Daarnaast kun je er vele andere salons en behandelaars vinden op andere gebieden zoals ontharen, gezichtsbehandelingen, nagels en ook kappers.
Tripadvisor
Website: https://www.tripadvisor.com
Binnen Tripadvisor (werkt net als bij Yelp) kun je op sleutelwoorden en locaties zoeken en zijn er bij de salons of behandelaars vaak ook beoordelingen te lezen van bezoekers.
Yelp
Website: https://www.yelp.com
Binnen Yelp kun je op sleutelwoorden zoeken en locaties en zijn er bij de betreffende salon of behandelaar in de regel ook reviews (beoordelingen) te lezen van bezoekers.