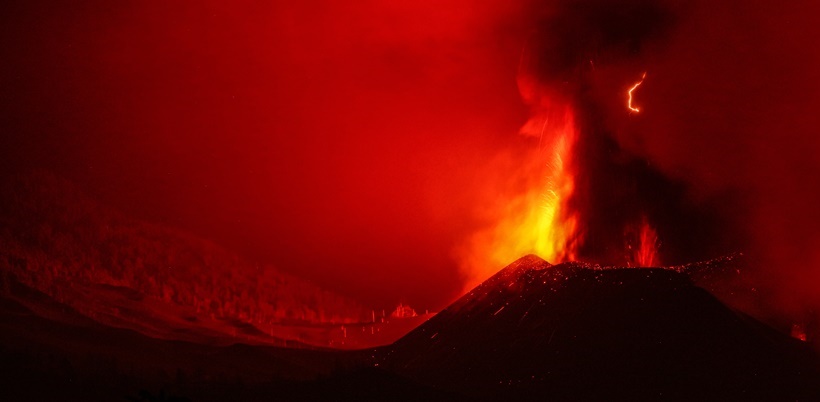 Great moments in great distress. This is life. La Palma. Meeting the worst of me and meeting the best in me.
What a place this is! The contrasts, the incredible beauty of nature showing its dynamic power — its magnificent and dominant being — there, here. And … mankind desperately trying to stamp its signature on it.
Here, in just one day, things can change with amazing speed. A rainy, cold, discouraging morning, followed by a sunny, warm, and splendid afternoon with the green, lush mountains bathing in a radiant sun.
Or exactly the opposite — a bright and hot morning chased by a windy afternoon and a stormy night. And then again weeks of just comfortable sunshine, tranquil days, tranquil nights, and a quiet, heart-breaking blue sea.
Clouds touching, embracing the mountains, clouds that disperse in strange, surrealistic forms — paintings right out from God's hands, writing down the words of life. A shattering, distorting atmosphere, one that takes time to digest.
La Palma, with its strange, almost unrecognizable African creative and primal energy. An island hiding in its belly this sea of fire. This is Africa, a living volcano, and it steadily stirs our unconscious feelings and thoughts.
This island is certainly not for everyone. Enough people who try to live here simply get crazy and run. Others endure in one way or the other and stay. La Palma manages to dig down into your heart, ploughs up your worst nightmares, and drags out your greatest talents and deep rooted instincts. It's a disquieting experience.
One cannot prepare for this encounter. One can only immerse in it and see what happens. It took me more than two months of raging inner struggle to even start to accept La Palma and see its blessings. No one can help out. Your on your own. It's a wrestle you need to handle yourself.
Yet, I know it's not over yet. Not at all. But I dare to say now that I've finally found something called "home," with the astonishing recognition that it isn't at all what I expected from home. I understand now that home means that you feel home. That it's your place, whatever happens. With all what it brings and shows — good or bad, highs and lows.
Home is feeling home, uplifted, taken and being home. It's a connection one cannot really explain; it's love. It's loving — it. It's an intimate resonance with our inner being. Home can be anywhere. It depends on you. On what you are, on how you are, and on what you need. And home might stay home, I suppose — even if one needs to leave it for whatever reasons.
As the saying goes: home is where your heart is. And my heart is here — well, for the moment that is.
---
---
Related Articles
---