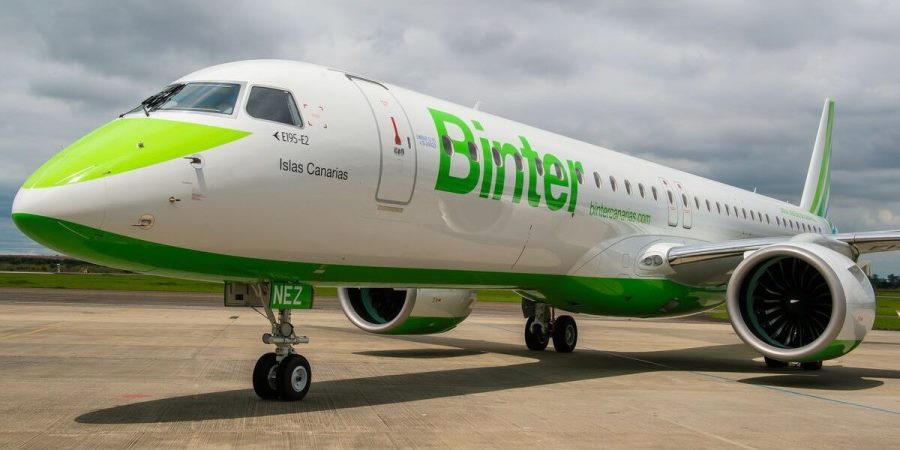 © Image from Embraer
There can be no doubt that Binter (Be International) Canarias Airlines fully deserves her Best European Regional Airline Gold Award!
Because check this out: in a 16 minutes flight from La Palma to Tenerife you get a free newspaper of choice, a free glass of water (with bubbles or without), over-friendly stewards and stewardesses, a highly artistic mimic of rescue and safety procedures, reassuring music while landing, a little sweet for pressure-inconveniences, a lemon-perfumed refresher towel, and let's not forget the free Be International wafer chocolate bar including a paper tissue to wipe your mouth after enjoying it.
All that for just only 21 Euros. And yes … you've read it well: in a 16 minutes flight!
It reminds me of the absolute opposite, that is, these terrible 4 hours flights from both Ryan Air and Iberia (Paris-Tenerife) where you get absolutely … NOTHING! Of course, you can buy food brought to you in little trolleys, horribly expensive stuff, of which I have a hard time even naming it "food."
And mind that on Ryan Air and Iberia flights the chairs are not adjustable and you cannot pay for that either, because they are really fixed in this impossible, uncomfortable position. Consequently, one is persistently reminded, a whole long 4 hours, of the barbarian (no)service one receives from these air carriers.
Well, thank God we also have Binter Canarias, clearly a smart little airliner. Nevertheless, one needs to be careful managing all their gifts wisely, that is, reading the newspaper, eating the chocolate bar, swallowing your glass of water, and sucking your sweetie in not even 16 minutes without choking, and I can only marvel at what they will offer on a 32 minutes flight.
It must be heaven!
---
---
Related Articles
---