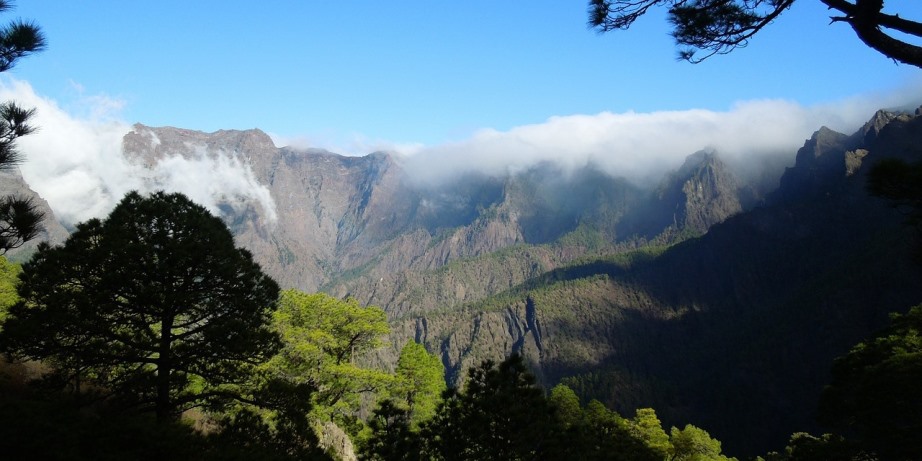 Of all the Canary Islands, La Palma (La Isla Bonita) is undoubtedly the island to-go for walks, hikes and treks. With a network of hiking trails of over 1,000 kilometers, its incredible mountains, cloud play, ravines, the ocean, volcanos, contrasting natural environments, and different micro-climates it's a place where you can experience the vast diversity of nature in just a short vacation.
There's much information to be found on do-it-yourself or self-guided hiking in La Palma, and there are many hikes you can surely do safely by yourself, but then again you may prefer a hiking tour organized by a mountain guide, travel agency, or specialized hiking provider.
Organized hikes by an expert guide offer you the advantage of getting to know more about the history of the island and its endemic fauna and flora, information otherwise quite hard to obtain. Moreover, hiking in La Palma can be dangerous: some (narrow) trails go along steep ravines and gorges with rolling debris of rocks or slippery pine needles, and signaling of hiking paths is not always updated or clear.
Another issue is that hikes in La Palma often take longer than you think because of the many climbs and descends, and the often intense sun. For instance, what seems to be a two-hour ten kilometer hike may actually become a five-hour hike because you can only walk two kilometers per hour. This can make your calculations of arrival wrong, and you will not be the first tourist on La Palma to "not make it back" before night, or even the other day.
In any case, below you'll find a selection of hiking guides and agencies that organize various hikes in La Palma. Among those hikes you'll almost always find the most popular trails, which, for instance, include the Caldera de Taburiente, Los Tilos, Nacientes de Marcos y Cordero, Santa Cruz, the Volcano Route, the New Volcano (eruption of 2021), Roque de Los Muchachos, and Las Tricias.
La Palma Hiking Tour Providers and Agencies
---