---

Tap or click for Table of Contents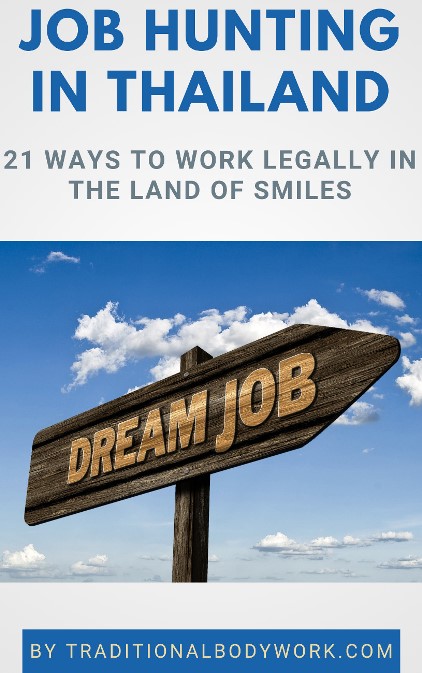 First published: July 2019
Last update: September 2020
Length: 82 pages
Book content: more details
Table of contents: preview here
Readability: device support
Formats: pdf, epub, mobi
Delivery: download and email
Suggested price: US$ 5
Minimum price: US$ 3
Buy more books at once? Learn more about our special priced
eBook bundles
.
What Is this Book about?
After having visited Thailand, there are quite a number of people who would like to live in the country for a while, yet the biggest issue holding them back is having enough money to do so.
One way to solve the "money thing" is to go job hunting in Thailand. To help you make the most out of your job search, we have written this book supplying you with practical info about job opportunities in Thailand for foreigners, working in Thailand, and all the documents and requirements you'll need to get started.
Throughout the book, we also offer shortlists of job websites with job opportunities in Thailand, both general job boards and profession specific job sites, and websites with all sorts of background info about working in Thailand and related info.
More on this eBook
Below this paragraph you'll find an overview of the Table of Contents and topics. More about the background of this book you can read in our post Working in Thailand.

Table of Contents
PREFACE
INTRODUCTION
~ Working and Living in Thailand 6
~ Working legally or illegally? 10
~ Your Language is Your Greatest Asset 12
~ Applying for a Job in Thailand 13
~ Requirements for a Job in Thailand 15
JOB OPPORTUNITIES
~ Diving Instructor 19
~ Kitesurfing / Kiteboarding Instructor 21
~ Yoga, Fitness & Sports Instructor 23
~ Sports Therapist, Physiotherapist, Chiropractor 25
~ Professional Skills – Music, Dance, Art, and so on 26
~ Teaching English 27
~ Teaching Other Languages than English 32
~ English Speaking Jobs in Regular Thai Businesses 34
~ Spa & Wellness Resorts and Retreats 35
~ Thai Massage Instructor 37
~ Call Centers 38
~ Real Estate Agencies 39
~ Movie and Media Industry 40
~ Bars, Restaurants or Hotels 42
~ Open a Thailand-Based Business 43
~ Multinational Companies 45
~ Embassies, Consulates, the UN, and NGOs 46
~ Video / Photographer for Gyms, Resorts, and so on 48
~ Information Technology (IT), Tech & Engineering 49
~ Working as a Digital Nomad – Remote Jobbing 50
~ Volunteering and Internships as a Stepping Stone 52
~ Studying in Thailand as a Stepping Stone 54
SUPPORTING ARTICLES
~ Losing Face in Thailand and How to Save It 56
~ 7 Ways to Stay and Live in Thailand 59
~ Non-Immigrant Visa ED (Student Visa) 62
~ Non-Immigrant Visa B & Work Permit 64
~ Specific Websites per Job Category 67
~ Job Boards, Recruitment Agencies & Other Websites 72
~ Getting Around in Thailand 74
APPENDIX
How Do You Receive this eBook?
We work with Gumroad, a reputable and established digital downloads service provider and payment processor. After buying this book you can immediately download it in one or all formats of your choice (pdf, epub, mobi). We will also send you an email with a link to the downloads so that you can re-download the book anytime you'd like to.
Device Support
Our books can be read on all common devices, such as desktops, laptops, notebooks, smartphones, tablets, and eReaders, including the Kindle eReader. All regular OS are supported, like, for instance, MS Windows, Apple Mac OS, and Google Android.

PDF files are best read on desktop computers, laptops, notebooks, and tablets, but can be easily read on other devices also. EPUB files are suitable for all generic eReaders. The MOBI file format is supported by many eReaders also, but it's specifically suitable for the Kindle eReader.

Smartphones and tablets can access all file formats we publish, but depending on the screen size and apps available or downloaded, either PDF, EPUB or MOBI will be best.

After buying an eBook you can immediately download all formats or, if you use a Kindle, directly send the PDF and MOBI file to your Kindle device using your Kindle email address.