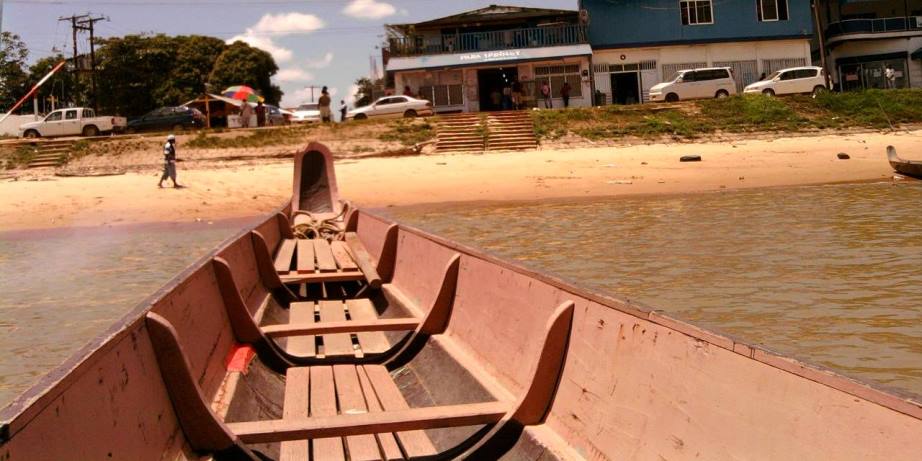 On October 15th, 2011, I was finally ready to start with my journey over land to Paramaribo. An "epic," historic, and emotional road trip to me because this was the route my father and I took when we fled Suriname in 1982, but then in the opposite direction: Paramaribo (Suriname), Albina, Saint-Laurent, Cayenne (French Guiana), Paris (France), Brussels (Belgium), Utrecht (Netherlands).
I would first begin by hitchhiking a distance of 216 km, from the village of Macouria (28 km west of Cayenne) to Saint-Laurent-du-Maroni (the western city in French Guiana bordering Suriname), taking the coastal highway, the N1.
My luggage: a backpack and a small rucksack. It wasn't hard to get a ride. Within twenty minutes a guy stopped and took me in. It was a physician practicing in Cayenne, and I remember that he drove maddeningly fast, sometimes even over 200 km per hour. Honestly, at moments it was a bit scary. The coastal road is a two lane "highway," well, basically a one lane highway with one lane in one direction, and another lane to drive in the opposite direction. For what it is, it's really very beautiful being surrounded by the Amazon forest while driving, now and then being alternated with Savanna areas. It's pretty mysterious and relaxing (even if we were driving way too fast).

eBook | by TraditionalBodywork.com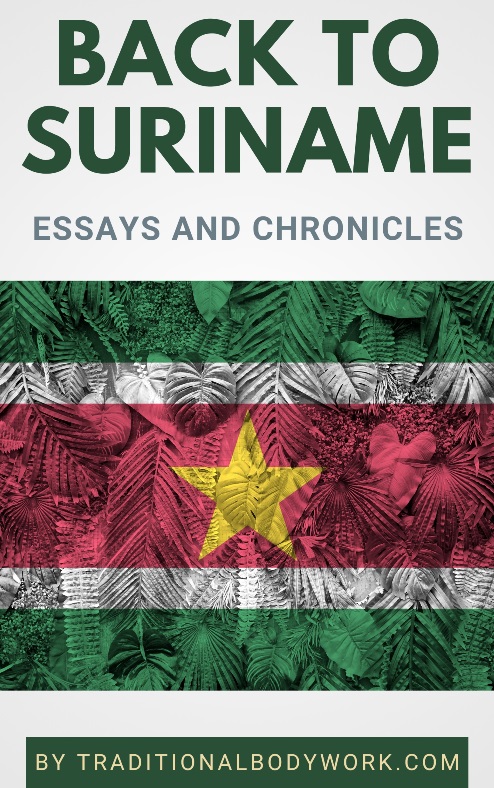 But then in Iracoubo (a village about 100 km west of Macouria), we were stopped by the French police (the Gendarmerie). It was at a check point, a kind of "border control," but one still in the middle of the country, and not at the actual border crossing with Suriname. By the way, there's a similar check point east of Cayenne, in the village Regina, which is in the direction to Brazil.
As it is, the French don't care to really survey the areas west from Iracoubo and east of Regina. It's virtually impossible to control these regions, because people can bypass the official border check points of Suriname and Brazil almost anywhere across the border rivers, or later on — when already in French Guiana — through the jungle.
Owning a Dutch passport, carrying a backpack, having a brown skin color and long hair, wearing a bit shabby clothes, while looking tired and bewildered, the police quickly decided to do a full check on me (and my driver and driver's car, by the way). My backpack and I were stripped to the core, their dogs where frantically sniffing about, well, simply a search geared to finding drugs on me. It was a kind of "unpleasant" experience, without any apologizes from the Gendarmes for their rude behavior after they couldn't find anything on us. After losing about half an hour, or so, we could drive on.
Arriving in Saint-Laurent, I said goodbye to the driver and walked to the river to take a motorized pirogue (a long, narrow, wooden canoe called korjaal in Dutch) across the Maroni River to Albina, the border village in East Suriname. At this point, the Maroni has a width of about three km, and the crossing with the boat takes ten minutes.
The thing is that French Guiana is a French overseas department (and as such, France) and thus member of the European Union. It means that if you have an EU passport, you don't "stamp out." Nevertheless, you'll need to stamp-in for Suriname in Albina. So, when you arrive at the other shore of the Maroni (that is, in Albina), you'll need to look for the border check point yourself to get an in-stamp.
Walking to the border police offices (it took me twenty minutes from the spot I stepped out of the boat) it turned out that there was nobody there. A cleaning lady told me that "they would be back soon …" Well, it was about 11:30 and I needed to wait until just past 13:00 to get my in-stamp.
The next thing to do was getting from Albina to Paramaribo (Suriname's capital city), which is a trajectory heading west, and counting 150 km. On the parking lot of the border police I found a commercial mini-van doing the trip. This was the type of van that can carry about eight passengers.
Anyway, the asphalted road was pretty good at first, but then there were several long kilometers of dirt road, muddy, and with potholes, which took us a while to cover. In Moengo, the renowned bauxite mining village in Suriname (40 km west of Albina), we encountered a police roadblock who would check our documents, that is, in my case it concerned my passport and visa. That went rather smooth (not like my little adventure in French Guiana), and we could soon head on again.
Finally, around 16:00 hours, we reached the village Meerzorg and the Jules Wijdenbosch Bridge, the latter crossing the Suriname River to enter Paramaribo. I had thought to be excited and happy to see Paramaribo again, but I wasn't at all. While driving on the bridge and seeing the city from afar, I only felt that I wanted to get the hell out of the place as quickly as possible, a feeling that didn't change in the next three weeks I stayed in Paramaribo.
---
---
Related Articles
---