---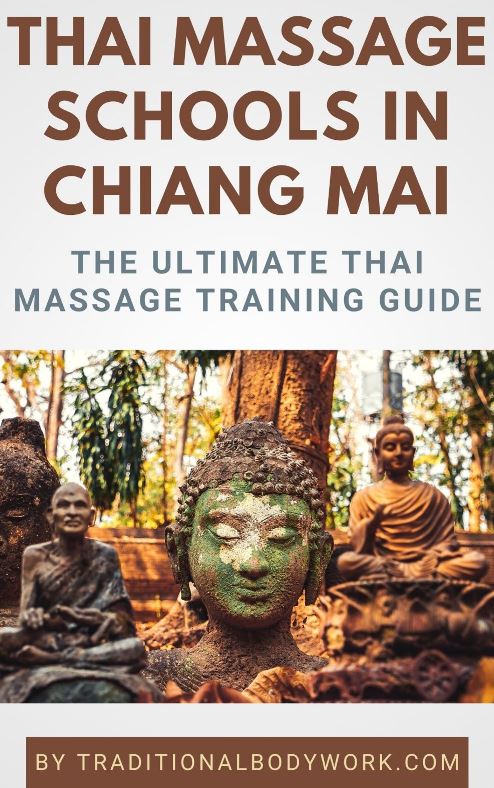 First published: April 2019
Latest updated: November 2021
Length: 237 pages
Book content: more details
Table of contents: preview here
Readability: device support
Formats: pdf, epub, mobi
Delivery: download and email
Price: US$ 6 or more if you want.
About our Pay What You Want pricing model.
What Is this Book about?
A unique, in-depth and all-inclusive overview of the best known, lesser known, absolute best, and most popular Thai Massage and Lanna Folk Healing schools and training in Chiang Mai, Thailand.
We have created this eBook with the idea that thorough research and preparation is necessary to find the right training school that will be a "perfect fit" for you in terms of goals, time and costs.
In this ultimate training reference guide you'll find all you need to know to make your Thai Massage studies in Thailand a success story and completely worth your while.
We cover almost 70 massage schools in Chiang Mai, school reviews, training course listings and course durations, and per school or trainer we supply the website(s), Facebook page, email and phone numbers. Additionally, you'll find thematic training course listings and lots of supporting articles.
More about this eBook
You can view the Table of Contents of this book in the paragraph below. And if you'd like to know more about the background of this book and how it came about, you may read our post Ultimate Chiang Mai Thai Massage Training Guide.
Table of Contents
How Do You Receive this eBook?
We work with Gumroad, a reputable and established digital downloads service provider and payment processor. After buying this book you can immediately download it in one or all formats of your choice (pdf, epub, mobi). We will also send you an email with a link to the downloads so that you can re-download this book anytime you'd like to.
Device Support
Our books and videos can be viewed on all common devices, such as desktops, laptops, notebooks, Smartphones, and tablets. Our eBooks can also be read with eReaders, including the Kindle eReader. Our videos can be played in any appropriate viewer or streamed with our online viewer. All regular OS are supported, such as MS Windows, Apple Mac OS, and Google Android.
PDF files are best read on desktop computers, laptops, notebooks, and tablets, but can be easily read on other devices also. EPUB files are suitable for all generic eReaders. The MOBI file format is supported by many eReaders also, but it's specifically suitable for the Kindle eReader.
Smartphones and tablets can access all file formats we publish, but depending on the screen size and apps available or downloaded, either PDF, EPUB or MOBI will be best. MP4 video formats are widely supported by computers and Smartphones, and by many other devices.
After buying a product you can immediately download all formats, or view the product(s) online. If you use a Kindle, you can directly send PDF and MOBI files to your Kindle device using your Kindle email address.