---

Tap or click for Table of Contents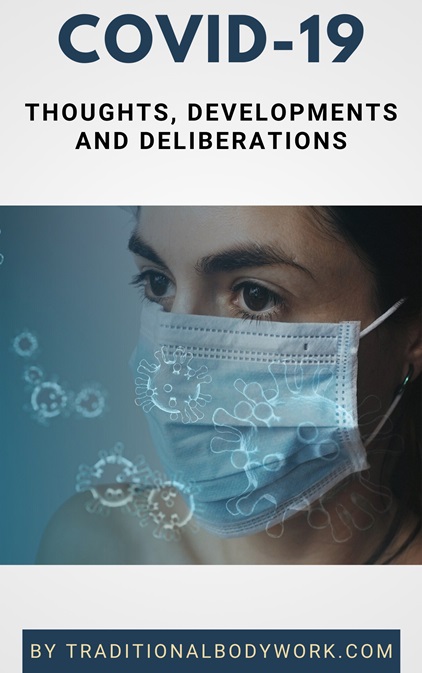 First published: April 2020
Last update: October 2020
Length: 49 pages
Book content: more details
Table of contents: preview here
Readability: device support
Formats: pdf, epub, mobi
Delivery: download and email
Price: US$ 0 or Pay What You Want
Buy several related books? Learn more about our discounted
eBook bundles
.
What is this eBook about?
COVID-19 is on all our minds. We've published this free eBook, bundling together a selection of articles with considerations, developments and experiences in view of the Coronavirus pandemic and its impact on the massage and bodywork industry.
Table of Contents
PREFACE
THOUGHTS, DEVELOPMENTS, AND DELIBERATIONS
~ The Rise of Reusi Datton Courses and Workshops | October 2nd, 2020
~ The New Normal of Online Massage and Bodywork Training | September 23rd, 2020
~ The New Normal Style of Thai Massage Training in Thailand | August 14th, 2020
~ COVID-19 Impact on Spa, Massage and Bodywork Training | August 8th, 2020
~ Thai Massage Schools, Parlors, and Spas in Thailand Reopening | May 28th, 2020
~ The Corona Battle and Why East Beats West | April 1st, 2020
~ How We Stay Fit during Lockdown | March 31st, 2020
~ The Future of the European Union | March 29th, 2020
~ Traveling after the Pandemic | March 29th, 2020
~ Online Massage Training Courses and Corona | March 28th, 2020
~ Life in Brazil under Lockdown | March 27th, 2020
~ COVID-19 and Conspiracy Theories | March 25th, 2020
~ Treating COVID with Traditional Chinese Medicine | March 24th, 2020
~ Thai Massage Schools in Thailand Closed | March 23rd, 2020
~ Corona and the Spa, Massage & Wellness Industry | March 22nd, 2020
~ Coronavirus, BCE, and CE | March 22nd, 2020
~ How the Coronavirus Infects our Website | March 17th, 2020
~ Massage, our Immune System, and the Coronavirus | March 17th, 2020
~ COVID-19 Recommendations for Thai Massage and Spa Managers | Feb 26th, 2020
APPENDIX
How Do You Receive this eBook?
We work with Gumroad, a reputable and established digital downloads service provider and payment processor. After checking out this book you can immediately download it in one or all formats of your choice (pdf, epub, mobi). We will also send you an email with a link to the downloads so that you can re-download the book anytime you'd like to.
Device Support
Our books can be read on all common devices, such as desktops, laptops, notebooks, smartphones, tablets, and eReaders, including the Kindle eReader. All regular OS are supported, like, for instance, MS Windows, Apple Mac OS, and Google Android.

PDF files are best read on desktop computers, laptops, notebooks, and tablets, but can be easily read on other devices also. EPUB files are suitable for all generic eReaders. The MOBI file format is supported by many eReaders also, but it's specifically suitable for the Kindle eReader.

Smartphones and tablets can access all file formats we publish, but depending on the screen size and apps available or downloaded, either PDF, EPUB or MOBI will be best.

After buying an eBook you can immediately download all formats or, if you use a Kindle, directly send the PDF and MOBI file to your Kindle device using your Kindle email address.