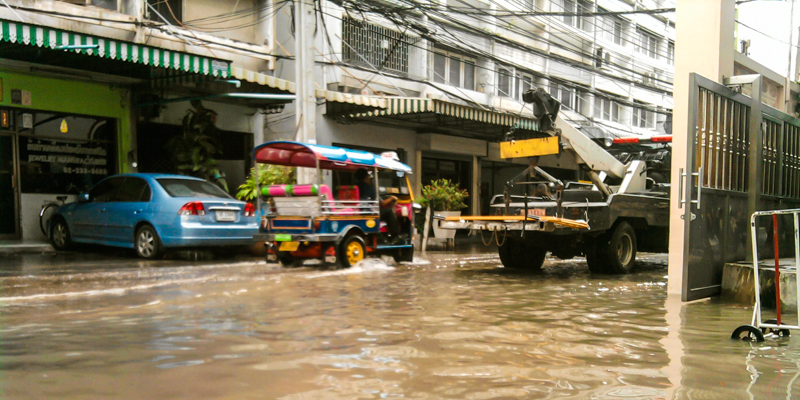 After the big flooding in Thailand of 2011 (Bangkok included), the Thai Government said they would do everything in their power to prevent this from happening again.
But today, Bangkok is threatened again. Well, threatened maybe is not the right word, because the flooding already started. The Chao Praya river is bursting its waters right into the city.
Of course, the rains of the last few weeks were devastating and it doesn't sound reasonable to just blame the government—two years is just not enough to fix everything.
Nevertheless, there are some critical notes from the Thai, a people normally not complaining so easily. Some wonder if the government really did enough in the past two years. Did they give their utmost best? Well, I can't judge, I don't know enough of Thai politics to be saying "something informed" on the subject.
I just look at the facts and… it doesn't look good! An endless list of area's, places, and villages (in the central plains, but also South of Bangkok) are already suffering and it seems that Bangkok is next on the list.
It's already hard, almost impossible to enter China Town with dry feet, the piers around the Wat Pho temple area and the Grand Palace are flooded with water flowing rapidly on the streets around, and the tourists are having a hard time maneuvering. And—it keeps raining!
Of course, flooding happens everywhere on this planet. It's not something out of the ordinary, and it's nature's way.
But in the case of Thailand I think we can learn something. I am amazed at how calm the Thai remain… smiling, optimistic, doing their utmost to repair, to keep the damage to a minimum, sand-bagging, pumping water, building improvised dikes and barriers, constructing elevations, and giving service as usual.
In situations like this, my admiration for the Thai people takes bigger proportions. Strong emotions and deep respect come up when I see how this nation seems always capable of so much resilience, force, and calm. Nothing will stop them to overcome, and they do this in a smooth, almost elegant, and puzzling disorderly-effective fashion.
This country that so successfully integrates capitalism and modernism with traditional values in an unprecedented way. These people who always remain so graceful, respectful, and polite, even when insulted. Once again, I witness strong character and strong culture. I'm impressed.
May the rains stop and if not—it doesn't really matter, because God (or Karma or whatever) seems always willing to help the Thai. And they probably deserve it.
---
More about this eBook
---
Related Topics